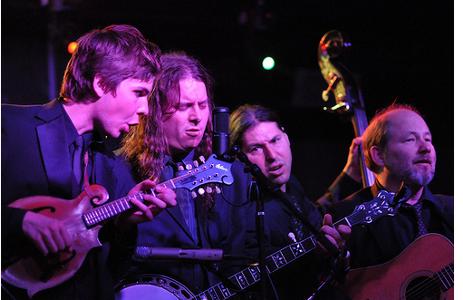 The Henhouse Prolwers have just announced a spur of the moment trip to Kyrgyzstan. This continues their journey as an example of American Bluegrass Music to countries abroad which started with an inaugural trip through American Music Abroad. They've gained fans in nearly every region they visit as they travel with open minds and open ears, often learning a popular song from the region they visit. Travels have included: Kenya, Nigeria, Russia, Saudi Arabia, Europe and more.
The band has been invited by the Embassy in Kyrgyzstan to perform at the Dostuk Music Festival in the capital of Bishkek and the surrounding region. There will be a series of concerts in conjunction with the festival as well as an event On December 1, 2016, where the band will perform at a reception following the Embassy's celebration of the 25thAnniversary of US relations with Kyrgystan. This conference will include key influencers in Kyrgyz society, including ministry officials, civil society leaders, and prominent academics.
As well, the band will give master classes for local American Music Center and American Corner, conduct series of concerts for students of local Universities and give media interviews.
This trip is funded by the Arts Envoy program, which you can read about here: https://exchanges.state.gov/us/program/arts-envoy [1].
For their trip they are again learning a song popular to locals. The song is called Super Kyrgyz folk song...
'The Arts Envoy Program shares the best of the U.S. arts community with the world to foster cross-cultural understanding and collaboration and to demonstrate shared values and aspirations. American arts professionals-- including performing artists, visual artists, poets, playwrights, theatrical and film directors, curators, and others-- travel overseas to conduct workshops, give performances, and mentor young people. Programs seek to connect with international publics who might not otherwise have the opportunity to engage with American arts professionals.'
Henhouse Prowlers will be coming back to Chicago on Monday the 5th and leaving 12 hours later to play Lincoln, Nebraska and Colorado.