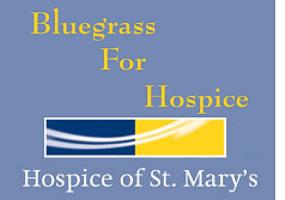 This year's Bluegrass for Hospice raised $38,298.91! In 8 years, it's the best yet, with a total raised of $192,000.00. On Saturday October 22, around 450 attendees enjoyed live Bluegrass music while raising money for our local Hospice of St. Mary's, Hospice House. Bluegrass for Hospice-2016 was held at Bubby Knott's Flat Iron Farm in Great Mills, MD.
In spite of the family emergencies and cancelation of the original scheduled headline act, which was TLC Televisions Network's, The Willis Clan, the show went on with no complaints of the replacement entertainment. Featured on America's Got Talent, the Mountain Faith Band came through and entertained the more contemporary crowd while The Larry Stephenson Band were there to entertain the more traditional folks.
I would like to thank each and every one of you who attended and all of the kind words that were given about the event. Maybe you purchased a raffle ticket, bought a Silent Auction item, or purchased a vendor space at the Bluegrass For Hospice; it all went to a worthy cause and was appreciated. Congratulations to our money raffle winners, Alan Hunter and Joy Potter.
I would like to take this opportunity to publically thank the many volunteers that contributed their time to help make the event run smooth and successful as well as the sponsors, and businesses in St. Mary's County who so generously donated items for the silent auction and door prizes. It's great to see how the community of St. Mary's County comes together with generosity. I hope I don't forget you, but please forgive me if I do. Your name may be overlooked, but please remember your work and participation was appreciated.
Thanks to the 'behind the scenes' folks: the Amish/Mennonite Community for their generous handcrafted items; my Dad, Johnny Armsworthy, Denise & Michael Bragg, Max McConnell, and Tina Williams for collecting door prizes and silent auction items; Barbara Robinson for making the phone calls; and Chesapeake Wholesale. Thank you Troy Jones for your dedication to me for over 11 years doing sound for all of my events. I don't know what I'd do without you!! The IIIrd District Optimist Kruzin Kafe' for being the food vendor; Bubby Knott for providing the Flat Iron Farm every year, not to mention Mickey who does all the work getting the facility ready; McCormick Spice Company for donating the Spice Basket; and Old Line Bank. A special thanks to the Printing Press, Jesse & Kerry, for your continued support and dedication to this event; to Sheetz in Great Mills; and Ed Vogt of the Eastern Shore for donating the small wagon that was filled with various Bluegrass items, AND the life size John Deere wagon.
Now to the many volunteers who were running around all day selling, overseeing, or just being there to do whatever was needed. You may feel that you didn't do much, but believe me, you were a big help. Thanks to: Barbara Anderson; my Mom, Lorraine Armsworthy; Jim & Martha Bailey; Jan Barnes; Tony & Cindy Beakes; Joe & Denise Bragg; Michael Bragg; Synda Buckmaster; Nina Campbell; Jeni Carrico; Tara Dooley; Nga Nguyen-Felton; Pam Ferris; Suzanne Henderson; Mikul Holder; Muriel Homesack; Diane Hoyns; Debbie Johnson; Terry Larus; Eve Love; Debra Morgan; Charles Nickless; Elisa Norris; John Potts; Vince & Pat Roche; Jack & Peggy Tippett; Randy Whiten; and Janice Woehrer. Putting the icing on the cake, the one and only Michelle Armsworthy!!! Everyone was a big help but it couldn't run without her!
To the local talent, who never give me a hard time or tell me they can't perform, thank you for your dedication: Recycled Bluegrass, Bluegrass Gospel Express, Bubby Abell & Spoon Creek, and 15 Strings.
This year's event was in memory of Charlie Thompson and Jay Russell. Jay was a big supporter of Bluegrass for Hospice and would always show up early willing to lend a hand with anything that was needed. Charlie was a long time Bluegrass musician and friend to many. He never turned down the opportunity to play for the Bluegrass for Hospice. He is missed, not only me, but many in the Southern MD Bluegrass community. I'd like to thank his brother, Ronnie Thompson, as well as Guy Herbert, Jerry Weaverling, Billy Thompson, and Stu Geisbert who joined me on stage for a nice tribute and reunion of Charlie's "Bottom County Bluegrass Band" to close out this year's Bluegrass for Hospice.
On behalf of the Helping Hands Food Pantry, they certainly appreciated the amazing amount of food that was collected.
And a great big thanks to the sponsors who supported Bluegrass For Hospice-2016: Great Mills Trading Post, Karen Garner, Jan Barnes-Realtor for Century 21 New Millennium, Mr. John Felicitas & Ms. Christine Wray, Old Line Bank, along with Salsa's Mexican Café, Associated Insurance Centers, FGS, ABC Liquors & Lounge, Chiefs, W.M. Davis, Bob Taylor Engineering, Chick Fil A, St. Mary's County Arts Council, The County Times, Southern Maryland Women's Magazine, and the Holiday Inn Express in California, MD. Also thanks to Joan & Stanley Williams, Three Mules Welding Supply's, TDE Incorporated, A & T Enterprises, Luke Morgan, DDS & Associates, John R. Bean Construction & Home Improvement~N~Stuff, Dorsey Law Firm, Quality Built Homes, Guy Distributing Co, IAMAW William W. Winpisinger Education Center, Dean Lumber Company, Wildwood Medical Care-Dr. John Scott Tidball, Friends of Tony O'Donnell, Virginia Lee Baines, Fitzgerald Auto Mall (Park Dodge Chrysler Jeep), along with Bell Boys Bus Service, Cedar Point Federal Credit Union, Hancock Refrigeration Co., Vidsec Systems, Cather Marine, Take-It-Easy Campground, Anne and Ernie Bell, Lil Margaret's Bluegrass & Old-Time Music Festival, Thomas & Son Transport, J.F. Taylor, Community Bank of the Chesapeake, Kieyos, Parrans Flooring Center, Patuxent Dental, C & C Plumbing & Septic, Aloft Solutions, St. Mary's Nursing & Rehabilitation Center, Tom Hodges Auto Sales, Tire, & Service Center, and Dyson Building Center.
Again, thanks to every one of you for making this event what is has turned out to be and for supporting live bluegrass music!