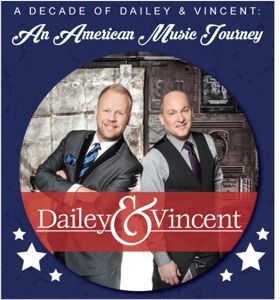 Owensboro, KY -- The International Bluegrass Music Museum is very excited to announce January 13th as the official opening of their latest exhibit, A Decade of Dailey & Vincent: An American Music Journey, featuring artifacts and memorabilia from the Grammy nominated artists!
The unveiling will feature a pre-show reception and concert, highlighting songs and stories performed and told by Dailey & Vincent. Hosted by Kyle Cantrell, the concert will be broadcast live on SiriusXM Bluegrass Junction. Tickets on sale now! Only 100 tickets will be sold to this very special evening.
"We are pleased to collaborate with Jamie Dailey and Darren Vincent on this exhibit highlighting their incredible career to this point. The event January 13th will certainly feature a live performance, but this is also an opportunity to hear Dailey & Vincent reflect on their influences, career milestones and the stories behind some of their most popular songs. This is shaping up to be a very special evening, and we are glad to host it here at the International Bluegrass Music Museum." – Chris Joslin, IBMM Executive Director.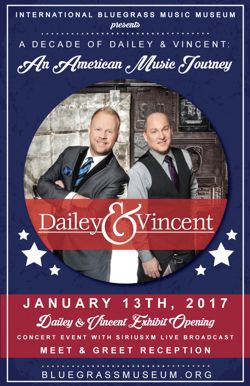 Features of the exhibit include instruments, clothing, awards and pictures from the duo, as well as memorabilia from Dailey & Vincent's careers prior to performing together.
Money raised from this concert and reception will help the museum continue efforts to preserve and honor the legacy of bluegrass music including music educational programs, general museum operating expenses, the Video Oral History Project (VOHP) and artifact collection efforts.
Get your tickets by Clicking Here [1].
The International Bluegrass Music Museum is a 501c3 non-profit located in Owensboro, Kentucky focused on gathering, preserving, exhibiting and disseminating the artifacts, history, collection and performance art of the global history of bluegrass music through an educational experience.
Formed in 1991, the IBMM is currently constructing a new building in downtown Owensboro, KY along the Ohio River. Just three blocks west of the current location, this new facility will double the museum's exhibit space and incorporate a 450 seat theater, an outdoor performance area, expanded research library, rooftop restaurant and much more.
Five-time Grammy award winners individually, three-time Grammy award nominees collectively, four-time DOVE Award Winners, and winners of 35 IBMA Awards altogether (including 3-time IBMA Entertainer of the Year Award winners and 3-Time Vocal Group of the Year Award winners), Jamie Dailey and Darrin Vincent, backed by one of the best bands on tour today, are some of the most reputable and elite entertainers in American music; bluegrass, traditional country and gospel music. The concoction of the fantastically instinctive vocal blends of Dailey's tenor and Vincent's reedy harmonies, has gained them well-deserved praise for their own distinctive style and worldwide recognition as American Music gold.
Dailey & Vincent has garnered world-wide attention with their first national, top-rated television series, "The Dailey & Vincent Show," on RFD TV and over 500 airings of their PBS special "Dailey & Vincent ALIVE ¬ In Concert." Their most recent CD, Dailey & Vincent ALIVE, debuted at #1 on the Billboard Bluegrass charts and remained at the top position for over 15 weeks.