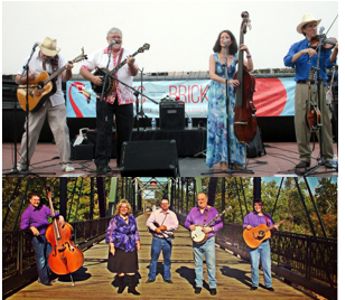 A concert event two years in the making will take place at The Old Liberty Theater in Ridgefield, Washington on Saturday, November 19th when East meets West – bluegrass style! Kentucky's Kenny Stinson & Perfect Tym'n bring their traditional authentic sound to blend in perfect harmony with the Oregon based 2015 International Music and Entertainment Association Bluegrass Group of the Year Kathy Boyd & Phoenix Rising.
Tickets are $15 and can be reserved by calling 360-887-7260. The theater is located at 115 N Main Avenue. Doors open at 6:45 and the show begins at 7:30 p.m. For additional information check out http://www.oldlibertytheater.com/events/ [1]
Kenny Stinson and Perfect Tym'n is a very high energy, fresh, entertaining band that will keep your attention throughout the show. Kenny got his start in bluegrass music playing with his family at the young age of 10 and over the years has played with many top names in bluegrass including Jimmy Martin and James Monroe. Kenny put his own band together 7 years ago, where he fronts the band with his energetic and entertaining playing of the mandolin. He is joined by his wife of 21 years, Ronda Stinson. On the banjo is Dayle Eskridge, former leader of the award winning band, Changing Times. Rounding out the Perfect Tym'n sound is Gavin Stinson on bass and newest member of the band Chuck Sharp on the guitar. Follow Kenny Stinson and Perfect Tym'n's West Coast tour at http://www.kennystinsonperfecttymn.com/ [2]
Kathy Boyd & Phoenix Rising is all about the stories, and stories of everyday America are what you get from these four personable entertainers. Members include the 2008 RMA Bluegrass Songwriter of the Year, the 2010 City Love Music Songwriter of the Year, and a member who's songs have been compared to those written by Woody Guthrie and Bruce Springsteen.
A shelf full of awards include IMEA 2014 Holiday Song of the Year "I'll Be Home for Christmas (In the State of Oregon) and the IMEA 2015 Bluegrass Group of the Year! Warm hearted, personable and fun, Kathy Boyd & Phoenix Rising are an ensemble who connect with the audience both on and off the stage. With multiple CD's receiving airplay around the world, this group has fans everywhere they go, and they work social media well to stay connected with those fans at all times. Connecting with people is what these folks are all about – you can do so at http://www.phoenixrisingband.org/ [3]
Get all the show details at https://www.reverbnation.com/show/19689762 [4]