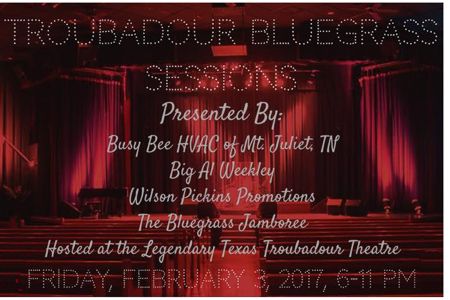 Now that the Fall Raleigh excitement has begun to dwindle down, the chatter in and about the bluegrass community is… all SPBGMA all the time. One of the most looked forward to activities during SPBGMA are the showcases, featuring a high volume of bluegrass bands offering their own flavor and style to an audience full of spectators, promoters, fellow musicians, radio programmers and like industry professionals.
We are proud to announce a new such showcase taking place during the SPBGMA activities this Winter in Nashville, at the legendary Texas Troubadour Theatre. The showcase is presented by Busy Bee HVAC of Mt Juliet, TN, Big Al Weekley, Wilson Pickins Promotions, and The Bluegrass Jamboree. Big Al Weekley will emcee the event and Annette Grady will be there to broadcast the show live over her popular Internet radio show "The Bluegrass Jamboree."
The showcase, called the "Troubadour Bluegrass Sessions," will take place from 6-11 PM on Friday, February 3rd, a terrific time for folks to enjoy live music after a long week at work, as a worthy addition to their Nashville vacation plans or to complete their #SPBGMA2017 experience at this prominent venue.
Scheduled to perform at this unique event will be Alan Bibey & Grasstowne, Shannon Slaughter & County Clare, Mike Bentley & Comberland Gap Connection, Randall Hibbitts & Appalachia, The New Balance, Bluegrass Outlaws, Wilson Banjo Co. Branded Bluegrass, Kim Robins, Kristi Stanley, and Jim & Lynna Woolsey. Special guests appearing will be Nashville's own David & Carrie Smith and The Sandy Shortridge Band.
Detailed updates and information about the showcase can be followed on the Facebook event [1].