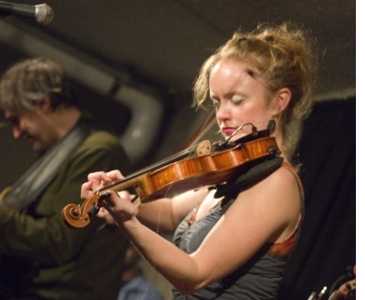 Cambridge, MA -- Passim's BCMFest (Boston's Celtic Music Festival), an annual showcase for the Greater Boston area's rich trove of Celtic music and dance, returns to Harvard Square January 13-14, 2017 for a weekend of performances and interactive events. Specially priced Early Bird full festival passes are available from November 16 – 30.
The family-friendly festival draws performers of all ages from Greater Boston and beyond, presenting music, song and dance from Irish, Scottish, Cape Breton and other Celtic-related traditions. Events are all held in Harvard Square at Club Passim, the First Parish Church in Cambridge and The Atrium.
BCMFest begins Friday, January 13 with the Roots & Branches Concert in Club Passim, offering a sample of the innovative, dynamic sounds of Boston's Celtic music community today. This year's Roots & Branches concert features Yann Falquet, a guitarist and singer known for his work with Quebecois trio Genticorum; Irish-style fiddler, accordionist and vocalist Heather Cole-Mullen, among the fine young local musicians who have come of age in the past decade; and the Jordan Tirrell-Wysocki Trio, with its fresh, lively New England take on Irish traditional music.
Friday night also features the Boston Urban Ceilidh at the Atrium, participatory and social dances from Irish, Scottish and Cape Breton traditions, all with live music. One of the most popular events at BCMFest, no experience is required as all dances are taught.
Performances continue Saturday, January 14 with Dayfest starting in the morning at Club Passim with songs, storytelling and other entertainment geared toward children and families. Dayfest continues after noon at Club Passim and on three different stages at the First Church, Cambridge, featuring performances, special collaborations as well as participatory events, such as Irish and Scottish music sessions and instruction in Scottish country dance.
The festival winds up on Saturday evening with the BCMFest Nightcap finale concert at the First Church, Cambridge. This concert celebrates the special, mutually nourishing relationship between Celtic music and its host community, a theme that animates the 2017 festival, according to Shannon Heaton, co-founder and organizer of BCMFest.
"Throughout BCMFest's history, dominant themes seem to emerge each year," explained Heaton, who will perform Irish Music Stories – a multimedia show combining live music, narration and images of Irish musicians and community – at the BCMFest Nightcap concert. This year, the BCMFest Committee saw numerous acts with a particularly strong appreciation and understanding of Celtic traditions. Even the newer fusion-type acts have that solid 'trad' foundation. Given how many younger performers will be featured this year, it shows how our local community has taken the tradition into its heart and home"
"So the theme for BCMFest 2017 is 'Tradition and Renewal: Looking Back and Moving Forward,' which will be expressed in the Nightcap concert," she adds. "Traditional music energizes so many of us. And this process of connection to the tradition by performers and listeners alike revitalizes the tradition."
BCMFest 2017 will feature Yann Falquet; Katie McNally & Neil Pearlman; Laura Fedderson, Joel Wennerstrom & Owen Marshall; All in Always – Laura Cortese & Friends; Heather Cole-Mullen; Jenna Moynihan; the Jordan Tirrell-Wysocki Trio; Scottish Fish; Alex Cumming & Nicola Beazley with Eric McDonald; Galen Fraser; Keltic Kids; the Rockport Celtic Duo; Liz & Dan Faiella; Elizabeth & Ben Anderson; Mink & Sock; Gus Le Casse; Boston Scottish Fiddle Orchestra; Colleen White & Sean Smith; Royal Scottish Country Dance Society of Boston; Christine Hedden; Big Ham & Shadow Hands (Lindsay Straw and Dan Accardi); Rachel Reeds & Friends; Buttons & Keys; Bagad New York, with Matthew Phelps and Nick Mitchell; and the Boston Harbor Bhoys.
This year the Passim School of Music will also host BCMFest Academy, classes taught by festival performers on Saturday afternoon in Passim's main offices (126 Church Street).
BCMFest will take place January 13 -14, 2017 at Club Passim, 47 Palmer St; First Parish Church, 3 Church St; and The Atrium, 50 Church St. Early Bird Discounted Full Festival tickets are on sale November 16 - 30. Regular price tickets are on-sale December 1. For tickets, performer updates and additional information about BCMFest 2017 visit, www.passim.org/bcmfest [1].
BCMFest is a program of Passim, a Cambridge-based non-profit seeking to build a vibrant music community through its legendary listening venue, music school, artist grants and outreach initiatives.