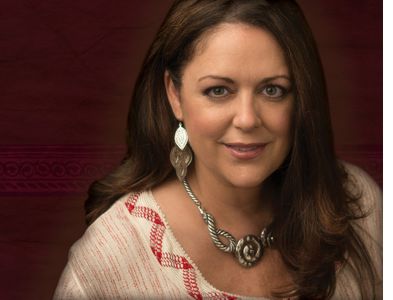 The IBMA Songwriter of the Year Donna Ulisse will be taking her Christmas show to several venues this Christmas season. Ulisse and her band The Poor Mountain Boys will perform all of her landmark Christmas CD
All The Way To Bethlehem
at venues in Virginia, Indiana, West Virginia and Nashville, TN. Ulisse had a hand in writing each song on the album and considers it the best songwriting she has ever done. It is a dramatic story told in song.
In All The Way To Bethlehem, we listen in to a drama told through many voices, all of them resounding with wonder. There is Joseph, puzzled by circumstances, daunted by responsibilities, yet resolutely determined to do the right thing; Elisabeth, Mary's much older cousin who also miraculously conceives a child, the compassionate but overburdened Innkeeper, who reluctantly tells the young couple, "You cannot stay here."; the Star of Bethlehem, beaming with its own importance, and, always and eternally, Mary, herself, who, while accepting the awful divine destiny of her newborn son, must in those first tender moments with him, marvel, rejoice and dream as any mother would. It is a triumphant story vividly told. Kyle Cantrell of SiriusXM Radio's Bluegrass Junction called the album "a masterpiece."
Information on each of the shows is below. In all cases, tickets are being kept at a very affordable price to allow families to attend.
Here is the current schedule of upcoming shows:
Dec. 2, 2016 : Bloomingdale Friends Church - Bloomingdale, IN - 7:00 p.m. Tickets are $10.00 each. Sponsored by Parke County Live Music Guild. For tickets contact: 812-208-8400
Dec. 3, 2016: The Strand Theatre - Moundsville, WV - 7:00 p.m. (Concert & food drive) Tickets are $10.00 each, children under 12 are $5.00 each and children under 5 are free.Thanks to Chevron Appalachia's sponsorship of the show along with Williams Energy, Lamar Advertising, and Lantz Law Offices, 100% of the ticket sales at this show and all non-perishable food items brought to the show will be divided equally by the following four non-profits in Marshall County West Virginia: Appalachian Outreach, Salvation Army, Body & Soul Soup Kitchen and House of the Carpenter II. This show is a production of Bluegrass Music Endeavors Foundation, founded by Moundsville native Jerry Andrews. For tickets contact: 304-281-5776
Dec. 10, 2016: Rustburg High School Auditorium - Rustburg, VA - 6:30 p.m. Tickets to the show are $15.00. This is a show to benefit Campbell County Historic Courthouse. Tickets are being sold in three tiers: Show only-$15.00 • Show and spaghetti supper starting at 5 p.m.-$25.00 • Show, Spaghetti Supper and meet and greet with Donna prior to show-$50.00
Dec. 11, 2016: Rustburg United Methodist Church - Rustburg, VA - 11:00 a.m. Donna and the band will do select songs from her Christmas album but not the complete show. There will be a love offering.
Dec. 15, 2016: Brentwood Baptist Church - Nashville, TN - private event
Dec. 16, 2015: Christ Lutheran Church - Nashville, TN - 7:00 P.M. Tickets are $10.00 each, children under 12 are $5.00 each and children under 5 are free. For tickets contact 615-833-0476 or 615-712-3244
Dec. 23, 2016: The Station Inn - Nashville, TN - 9:00 P.M. Admission is $12.00. The show will be a mix of the Christmas show and Donna's bluegrass radio favorites.
For those looking for a Christmas show of music that will truly take you on a journey and re-connect you with the true meaning of the season, this is the show for you. To learn more about Donna Ulisse, visit her website at www.donnaulisse.com [1]