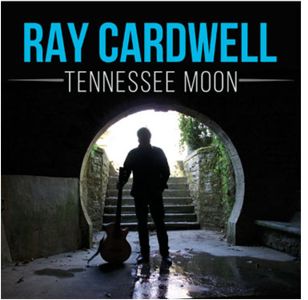 Ray Cardwell's Pinecastle debut album, Tennessee Moon, is set for release on January 17th 2017 and is now available for preorder. The single, "Tennessee Moon," has debuted to good review. Tennessee Moon has a clear New Grass influence in producer Pat Flynn. However, with nine out of twelve tunes written by Cardwell, the album is his own take on that classic sound. Flynn also adds his talents on guitar and harmony vocals to the album along with fellow New Grass Revival alum John Cowan lending tenor and harmony vocals on many of the tracks (full personnel listing below). Cardwell has already built a touring band of incredible musicians to take his music on the road as Ray Cardwell & Tennessee Moon.
Ray honed his musical chops playing in The Cardwell family bluegrass band in the late 1970's. In the '80s he spent time playing rock and reggae before moving to Nashville in the '90s to be a member of the bluegrass band, the New Tradition. He returned to his home state of Missouri a few years later to raise a family while teaching vocal and instrumental ensembles. Along the way he has had experience with an eclectic mix of musical genres from bluegrass and Americana to musical theater and Motown. Now living in Nashville, TN Cardwell has returned to his musical roots while blending in his varied influences to create a style all his own.
"I feel my music is based upon the traditional style of bluegrass and old timey music my parents raised me on, and the collection of musical experiences I've had in my journey through life. My songwriting is a direct reflection of new ideas balanced with the traditions of the past."
  - Ray Cardwell
This all started with a meeting with producer/newgrass guitar master Pat Flynn. Ray's sister, Nancy, who was running IBMA at the time, played a demo for Pat. He said he really liked what he heard, and he proposed that they work on a project together.
During the fall and winter of 2015-16 the magic happened at Markus Stadler's Bumpin Heads studio in Madison, TN, just north of Nashville. (There's a low doorway when you walk in. Watch your head!) With Pat in the producer's chair they recorded 12 songs all together--nine that Ray either wrote or co-wrote; plus a song from one of Ray's all time favorite bands, The Dillards; a brand new song never recorded previously from hit writer, Fred Koller; and a killer original from Tennessee Moon band member, Kyle Wood--who you will remember from the band, Crucial Smith. Stylistically, the songs range from straight ahead bluegrass and an A Capella gospel to rootsy blues, acoustic country, and a touch of reggae.