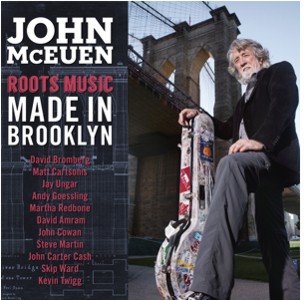 Nashville, TN -- Grammy-winning "String Wizard" John McEuen celebrates early success and applause with his new solo project titled Made in Brooklyn (released September 30). Produced by McEuen (with David Chesky) and featuring special guest performances by David Bromberg, Jay Ungar, Andy Goessling, John Cowan, Steve Martin, Martha Redbone, David Amram, John Carter Cash, Matt Cartsonis, Skip Ward and more, Made in Brooklyn debuted at No. 1 on AirPlay Direct's Americana/AAA chart, No. 9 on Billboard's Bluegrass chart and No. 10 on Amazon's Hot New Releases-Folk chart.
Released by the New York powerhouse Chesky Records (a renown high-definition audiophile recording company), the 16-track project parallels McEuen's previous Grammy and award winning productions. Similar to McEuen's initiation of the genre-breaking, landmark Will the Circle be Unbroken sessions nearly 45 years ago (Nitty Gritty Dirt Band), McEuen's Made in Brooklyn once again reveals his collaborative-genius by the same score.
Gathering world-class musicians into one room with all performers playing together around a single microphone, Made in Brooklyn presents select acoustic music in its purest form.
Each song was captured in its entirety, from first note to last--no overdubs, no multi-tracks, no auto-tune. The Chesky sessions were recorded in high-definition using a binaural microphone (a dummy-head designed to provide that same spatial recognition as that of the human ear), giving the listener the impression they are sitting in with the band, rather than simply being at the session.
"Often albums are recorded with a few musicians at a time, with overdubs on different days for different things. 10 people in different rooms at different times can't have a real conversation," McEuen explains. "But when you get these caliber of musicians together in one room and recording at the same time, they play off one another, elevate one another, and get inspired by each others' musical thoughts...that's when the 'magic' happens. That was all I was after."
World-class musicians featured on this project include:
David Bromberg —"Godfather of Americana"
Jay Ungar — folk musician/composer (Ashoken Farewell)
Andy Goessling — multi-instrumentalist/founding member of Railroad Earth
Martha Redbone — Native-American blues/soul singer
David Amram — conductor/composer/author, "Splendor in the Grass" & "Manchurian Candidate"
John Cowan — "Voice of NewGrass"/bass player for the Doobie Brothers
Steve Martin — Grammy-winning Bluegrass banjo player/comedian/actor
Matt Cartsonis — folk artist/film composer
John Carter Cash — award-winning record producer/only child of John & June Carter Cash
Skip Ward — Grammy-winning bassist
Kevin Twigg — percussionist/member of the Amram Quintet
"Made in Brooklyn reflects the spirit and spontaneity that originally took flight with Will the Circle be Unbroken, proof that great music of a revered pedigree never goes out of style."
~ Lee Zimmerman, No Depression
"Made in Brooklyn deserves a GRAMMY® in either Americana or Bluegrass categories – or both!"
~ Country Music News International
"A breathtaking experience...superbly recorded artistry in motion."
~ Steven F. Adams, SoundwaveOne
"Made in Brooklyn is this year's juiciest slice of Americana music...a wonderful, musical movable feast."
~ Terry Roland, No Depression
"Made in Brooklyn highlights John's wizardry in his own musical interpretations and showcases his talents in surroundings where he is most comfortable--alongside great musicians, recording great music with carte blanche freedom to create."
~ Steve Martin, "Unreal Bluegrass"
"The sound quality has a depth to it that is uncanny. It's as if you're in the room with the performers who are gathered together in connectedness."
~ Three-time Grammy-winning guitarist, Steve Vai
"I believe in my heart that John McEuen is one of the great American Music Legends of our time. He is a pure genius and Made In Brooklyn is proof."
~ Joe Bonsall, 43-year member of The Oak Ridge Boys
"McEuen has the uncanny ability to be both traditional and progressive--often in the same song. This is truly a masterpiece."
~ Orin Friesen/KFDI
"I played Made in Brooklyn on my program and my request lines lit up! This will be my constant companion for many months to come."
~ Al Shusterman, KUBU Radio "Backroads Bluegrass"
"I am completely blown away by this album....I don't think it's hyperbole of me to say this may well be the finest sounding acoustic recording I've ever heard. It is sonically astonishing."
~ Mike Lawson, Journalist (CUbroadcast, San Diego Union-Tribune, etc.)
"This is John's finest work since the Circle album and the variety even outshine's the String Wizards album."
~ Bob Cherry, Cybergrass
For more than 50 years, multi-instrumental "String Wizard," John McEuen has performed over 9,500 concerts, covering more than three-million miles globally with the Nitty Gritty Dirt Band and as a solo performer. McEuen has recorded over 40 albums (6 solo)--four platinum and five gold, garnering countless awards including GRAMMY and Emmy nominations, CMA and ACM awards and IBMA Record of the Year honors. As a musician, McEuen has built a lasting legacy, including his seminal work on the Will the Circle Be Unbroken album, recognized as "the most important record to come out of Nashville" (Rolling Stone) and "the most important record in country music" (2004 ZAGAT survey).
Beyond performing, McEuen has produced more than 300 concerts throughout his career (the first in 1965 in Long Beach Calif., with Bob Dylan). In 2010, his record production of Steve Martin's The Crow won a GRAMMY for "Best Bluegrass Album."
Additionally, McEuen has a rich history of creating, producing and preserving original, traditional folk and acoustic music and taking it to new audiences. McEuen's The Music of the Wild West was honored with the Western Heritage Award; he scored a GRAMMY nomination for String Wizards II; and earned the Uncle Dave Macon Award for "excellence in preservation and performance of historic music."
John is show host of the popular "Acoustic Traveller" radio show on Sirius/XM's The Bridge (now in its 8th year).
For the latest John McEuen news, please visit: www.johnmceuen.com [1], www.syndicatednews.net [2] (snn.bz), or follow him on Facebook and Twitter.