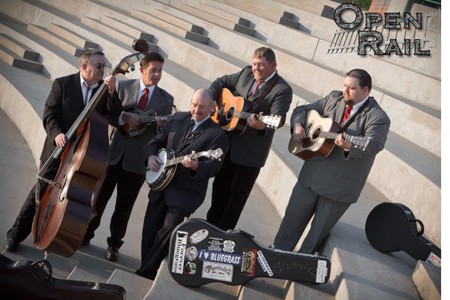 The awards for the International Music and Entertainment Associations (IMEA) were handed out during the awards celebration held October 8, 2016 at the Tucker Theatred in Murfreesboro, Tennessee. The Bluegrass Music category contains three award categories for the IMEA trophies.
The purpose and mission of the International Music and Entertainment Association's IMEA Awards is to honor and recognize the best in independent music, theatre, and live entertainment, internationally. The IMEA Awards, presented annually, highlight excellence in the performing arts and entertainment industries.
The winners for the bluegrass awards this year are:
Bluegrass Group of the Year
Open Rail
Gallipolis Ohio Based Open Rail was selected as Bluegrass Group of the Year for 2016. Open Rail now in the band's 9th year was surprised and humbled to be recognized by industry leaders and peers. Open Rail consisting of John Cardwell on Mandolin, Don Titus on Banjo, Brian Ison on Bass, Shane Lail and Mike Sheppard on Guitar have made the rounds in the world of bluegrass traveling and performing in eight states over the last nine years. Speaking of the award Brian Ison said, "Being from small town USA, and receiving an award for the work and efforts you put in is a wonderful thing. To be honored as an International award winner is more than we could have ever dreamed for." Open Rail continues their busy tour schedule this weekend and throughout the rest of 2016. 2017 is already filling in well and with this award is soon to fill up quickly. For more information about Open Rail, visit www.openrailbluegrass.com [1]
Bluegrass Album of the Year
I Want To Go Home – Kevin Pace & the Early Edition
Kevin Pace & the Early Edition wants to thank everyone for their support! The group won the "Bluegrass Album of the Year" category with I Want To Go Hom". Thanks to all the guys in the band, to producers Jonathan Buckner and Jonathan Campbell, and songwriters Brink Brinkman and Melanie Brown King. Based out of Spokane, Washington, the band consists of Kevin Pace – Mandolin, guitar, lead & harmony vocals; Josh Robertson – Guitar, lead & harmony vocals; Christopher Arndt – Banjo, vocals; and Jim Adams - Bass Fiddle, vocals. The band claims, " It is our goal that everyone leave our show having had a positive experience." They record on the Poor Mountain Record label.
Bluegrass Song of the Year
"Let Her Roll" – Kathy Boyd & Phoenix Rising
Kathy Boyd announced, thanks songwriter Steve Spurgin, producer Mark Gensman, Dennis Nelson for saying, "Hey, we should release a single!" She also gave kudos to Tim Crosby for wackadoodle mandolin, and to Tom Tower (Plato Ravioli) for the ability to make train sounds on his Dobro....and to the whole gang for following her off so many cliffs! Kathy Boyd & Phoenix Rising captured the Bluegrass Group of the Year last year and celebrates bringing home another award this year.
The complete list of award winners is on the IMEA site at http://www.imeaawards.com/winners/2016-winners/ [2]