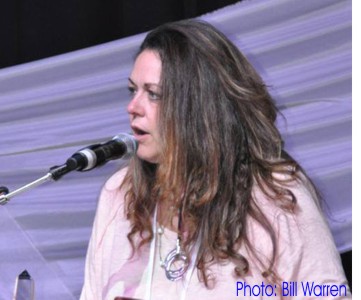 Donna Ulisse left Raleigh last week named the 2016 International Bluegrass Music Association's Songwriter of the Year. It is an award she had been nominated for the past four years in a row with 2016 making it her fifth nomination. Having never won, it caused her to often joke that she was the IBMA's Susan Lucci, in reference to Lucci going nineteen years before winning an Emmy for best Daytime Soap Actress. When former winner Becky Buller announced the award, she smiled at Ulisse's table and said, "You are no longer the Susan Lucci of this award."
Donna tearfully accepted the award saying "my father always told me if I wore a skirt it would snow. Well, instead of that, I ripped it off on the escalator on the way in so it flustered me and I forgot what I was going to say."
While Hampton, Virginia native Ulisse started in the business as a singer with a country deal on Atlantic Records in the 1990's, she turned her attention to serious songwriting in 2000 when she was signed by Hadley Music Group as a staff songwriter. When her publisher noticed the songs she was writing alone had a strong Appalachian and bluegrass flavor, the company decided to take her in the studio to record an album of original material recorded in a bluegrass setting to sell at "songwriter in the round" shows. This became her first bluegrass release, When I Look Back, which yielded several radio favorites including "I'm Calling Heaven Down."
Now, after nine albums released in the bluegrass genre, filled with mostly original material, she has also had many songs recorded by other bluegrass and folk artists including Claire Lynch, The Bankesters, Nu-Blu, Darin & Brooke Aldridge, Natasha Borzilova, Diana Jones, Louise Mosrie, The Larry Stephenson Band, Volume Five, Doyle Lawson & Quicksilver (Grammy nominated album) and The Del McCoury Band (Grammy winning album).
In the past year, she has had a hand in writing the popular bluegrass radio hits "Wilma Walker" recorded by Doyle Lawson & Quicksilver and "I Am A Drifter" recorded by Volume Five as well as her own radio hits "Hard Cry Moon" and "It Could Have Been The Mandolin" which was #1 for June and July of 2016 in Bluegrass Unlimited's National Chart. She is also a writer on the upcoming title cut to the new Larry Stephenson Band's album Weep Little Willow.
Ulisse is the author of The Songwriter in Me: Snapshots of My Creative Process which gives readers insight into how she goes about the business of getting song ideas out of her head and onto paper into a completed song. When Ulisse and her bluegrass band The Poor Mountain Boys are not on the road performing at festivals and concert venues, she enjoys teaching others about songwriting. She has launched a traveling workshop called where aspiring songwriters can learn the "nuts and bolts of songwriting" as well as creative warm-up exercises, how to co-write and the basics of publishing and copyright.
To learn more about Donna Ulisse visit www.DonnaUlisse.com [1]