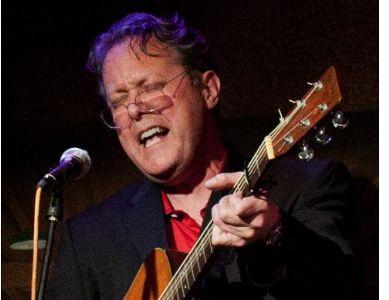 by James Reams 
I always have such a great time at the IBMA World of Bluegrass conference, but this year the excitement actually started before I even got there. It was literally an airport to airport experience.
I arrived at the Phoenix airport to find Darby Brandli, President of the California Bluegrass Association, and Michael Hall, President of the Northern California Bluegrass Society and Chairman of the IBMA Film Festival Committee (of which I was a member), waiting for their connecting flight to Raleigh...which also happened to be my flight too! Michael and I got to sit together for the cross-country flight and chatted about the upcoming Arizona Bluegrass Showdown and Film Festival as well as the films that would be presented at the conference. Small world.
Once we touched down in Raleigh, it was obvious that the city was buzzing with bluegrass. I was greeted at the airport by a display about the bluegrass music happenings in Raleigh that week, the car service I used knew all about the event, and even the hotel was giving bluegrassers VIP treatment!
After checking in, I took a little walk on the streets outside the hotel and wouldn't you know the first person I ran into was Steve Martin!! No, not the wild and crazy guy, but the popular webcaster for Unreal Bluegrass. We got into some great discussions about homelessness and my new album, Rhyme & Season's focus on the disenfranchised and marginalized. As an attorney, he shared some of his encounters about intervening on behalf of runaways. It was great swapping stories with him. Steve and I stopped in at The Pit for some of their world famous BBQ and seated at the table next to us was IBMA Hall of Famer, Dave Freeman, from Rebel Records. So we shook somewhat barbecuey hands and swapped CDs. Bluegrass sure does bring folks together!
That night I attended a special cocktail party for Leadership Bluegrass alumni held on the top floor of the PNC Bank building overlooking the city. It was a magical evening filled with conversations about bluegrass music...my favorite topic! I chatted with Rounder Records' and Bluegrass Hall of Fame inductees Ken Irwin, Bill Nowlin and Marian Levy, as well as folks from all across the world that are influencing our music.
The next morning, I was up bright and early to participate on the panel with Daniel Roth (Nu-Blu) and Joe Newberry (singer-songwriter and award winning musician) for a conference workshop called "Booking Yourself Without an Agent." The room was packed with the members of new bands and we were so glad to have Nancy Cardwell (former IBMA Executive Director) on hand to offer support. Hands were shooting up everywhere as we were peppered with questions. What resulted was an amazing discussion about how to keep your band active and growing.
The keynote address for the conference was delivered on Tuesday afternoon by a Leadership Bluegrass classmate, Marian Leighton-Levy, co-founder of Rounder Records and 2016 inductee into the Bluegrass Hall of Fame. She knocked it out of the park and sent the bluegrass world a strong message, "If music doesn't discriminate, why should we?" I sure hope the IBMA posts her speech on social media, it was so inspiring and is something no bluegrasser should miss.
Seems like everywhere I went, I kept running into folks I knew. Kyle Cantrell, of Sirius Radio, pulled himself away from his "groupies" to say, "Hey, I know you!" Paul Schiminger, IBMA's new Executive Director, kept waving at me like a maniac every time we saw each other. We really connected at Leadership Bluegrass this year. And my carved wooden fridge magnets that I brought along to give away were as sought after as Olympic pins! Joe Mullins, winner of the 2016 IBMA Broadcaster of the Year award, even traded me his hand sanitizer for one!
The Momentum Awards Banquet was especially exciting! I shared a table with the Arizona contingent including Bonnie Williams and Ben & Helen Sandoval and just about popped a button when Brad Kolodner picked up the award for Industry Involvement. I really got to know Brad when he and his father performed last year as part of a concert series that I promote in the Phoenix metro-area.
As always, the real highlight of the week was the IBMA award show. Hobnobbing with Bluegrass Unlimited's Kitsy Kuykendall, bluegrass legend Ronnie Reno, my buddy Larry Stephenson of the Larry Stephenson Band, as well as all the good folks from Bluegrass Today before the show was so much fun. But I had no idea what an emotional experience was in store for me when I arrived that evening. You could have knocked me and a whole bunch of other folks over with a feather when my dear friend, Danny Paisley's name was called as the Male Vocalist of the Year. I've known Danny for just about his whole career. We've played at the same festivals, clawing for every scrap of meat off the bluegrass bone we could get. It brought tears to my eyes and to those around me, to see him stand up there, obviously shaken, and accept his award. And he certainly deserved the win. Wow! What a thrill!!
Heading for home after an exhausting week, I was standing in line waiting to board my flight, when I glanced back over my shoulder and did a quick double-take. There sat a long-time idol of mine, Marty Stuart and the rest of the Superlatives. I did what any self-disrespecting groupie would do and quickly pulled out my phone to take a selfie with the legend (unfortunately, all you can see of me is my shoulder!). I scrounged up the guts to hand him one of the 2 remaining copies of my new album and mumbled something about including one of his great songs "Rough Around the Edges" on the album, before I hurried back to the line to board the flight. Because of my long legs, I usually sit in the bulkhead and sure was shocked when Marty and the rest of the band boarded the same plane a bit later. I had a chance to chat with Marty several times during the flight. As we joked and kidded around about the music business, I felt like I was in heaven (especially with the clouds floating by the windows!).
The IBMA World of Bluegrass is all about connections...family connections with the world-wide family of bluegrassers. Lord willing, I'll be back again for next year's family reunion and hope to see you there too!