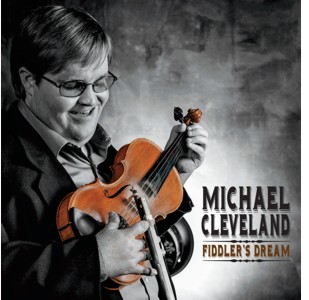 Nashville, TN -- Compass Records writes, "We could not have been happier when the team here at Compass headquarters learned that Michael Cleveland had gone 'viral', racking up over 6M views in a matter of days for a backstage video shot with a stranger's phone. A precious example of the truly deserving finding its place in the landscape of cat videos, pratfalls and teenagers talking about themselves that dominate the internet."
As the most awarded fiddler in bluegrass history, Michael is well known in the community but up until this point was not as widely known to mainstream music fans. Now, with this chance exposure and the excellence of his new album, we believe that's about to change. What he achieves with Fiddler's Dream is a definining statement of his artistry.
For those who know him, he shows more of the incendiary, transcendent playing he's known for, but also illustrates his facility with mandolin, guitar, and songwriting. For those who have just discovered him, it showcases an outstanding performer in his prime surrounded by the best in bluegrass like Sam Bush, Jerry Douglas, Barry Bales, Jeff Guernsey, Andy Statman, Vince Gill and producer Jeff White. It's the perfect follow up to the video that inspired so many views, shares, and words of praise.
Michael Cleveland is one of bluegrass music's great treasures: a 10-time IBMA Fiddle Player of the Year, 4-time Instrumental Group of the Year winner and 2016 nominee, Cleveland captured the attention of the bluegrass community as a child prodigy who performed on the Grand Ole Opry with Alison Krauss when he was only 13 years old. But he became a viral video sensation this summer with a virtuoso impromptu performance of "Jerusalem Ridge" that racked up over 6 million views in just a few days. Now mainstream music fans are discovering what the bluegrass community has known for years—that Michael Cleveland is one of the most important fiddle players of his generation.
Fiddler's Dream will be released October 7th on Compass Records. Fans can pre-order the album today from Compass Records [1] for just $11.99.