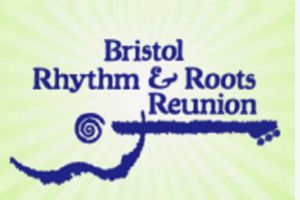 Bristol, VA/TN -- The 2016 Bristol Rhythm & Roots Reunion has come to a close. The start of the region's premier festival was some mighty fine weather and a kick off with some outstanding music. The thing about this festival is that with so many stages operating at the same time, one needs to set up their schedule in advance. The producers of this festival understand that and provide a web site where you can customize your schedule and, they have a mobile app that you can download to manage it while you take in all the other activities. The new Birthplace of Country Music Museum is a must see while you're here -- or really anytime you in the area!!!
Our focus at Cybergrass was on bluegrass and bluegrass related music. While impossible to attend all the events due to the number of artists and stages, this is the place where we can go pretty out of the trench to find new music to experience. With so much regional talent in once place, that isn't difficult to do. It's everywhere! From bluegrass to blues and string bands to traditional country its a smorgasboard of acoustic tastes to please almost any pallet. It is also a great event to explore new talent to sample.
One of the first sets we caught was Becky Buller at the Country Music Mural Stage. This group emotes energy, fun, emotion and the music. An awesome showing of talent collected on one stage. We spoke with Becky regarding her time at Bristol and her upcoming project. A download and information on it may be found at www.madeliastrong.com [1]
I spoke with Russell Moore and congratulated him on is nominations and his recent album, It's About Tyme. We discussed his music and his latest album's ability to endure over time. Many artists put out an album that consumers tire of soon and rarely listen to again. Russell's music is music you can continue to listen to for years. It has that facet that doesn't get tiring after many listens. He and IIIrd Tyme Out put on an amazing show that fully illustrated why this group continues to be at the top of the charts and a fan favorite year after year after year...
Another high-energy act was Trey Hensley and Rob Ickes. This dynamic duo is just awesome. The power and emotion of the songs and the music was a major hit at this year's event. The audience area of the Country Mural Stage on State Street was totally packed for their performance. I spoke with Trey about him and rob getting together and here are his commments...
Bristol Rhythm & Roots Reunion isn't like any other music event I have ever attended. 20 stages with performances covering three days with a very diverse group of artists representing roots music from the region and the county results in something for everybody. It is fun to visit the stages and the smaller acts in between the main shows.
This was the first time I was able to experience the music of 11 year old EmiSunshine, also known as Emilie Sunshine Hamilton, a young country music singer that covers the classics more than today's pop country. The people from this region all seem to know her through her performaces in the region. She was a big hit and the crowd totally loved her.
One group that had it all together was Forlorn Strangers. I met with the band in the artist area. The band has just released their self-titled album. Forlorn Strangers is a quintet based out of Nashville, Tennessee. The band is a collective of five songwriters, each having their own distinct styles that blend into one unmistakable voice. Their sound delves into all reaches of American roots music. Their stage presence was full of happy, fun energy that the audience absorbed graciously. Their album is available on their website at www.ForlornStrangers.com [2].
Marty Stuart & the Fabulous Superlatives put on an amazing show Sunday evening. While the close was in the rain, the fans stuck it out with umbrellas in hand and the rain didn't even dampen their spirits. The people and fans of Bristol love their music, rain or shine, and it showed throughout the festival.
In the Tri-Cities and The Crooked Road region, this is one of the best musical events around. While there are certainly others throughout the season in this region, this event is the big draw. Others I would like to see take the stages at this event would certainly include Blue Highway, Leroy Troy and a host of others. There is plenty going on and this event just gets better and better with age. Like a good wine, it is served at the right time.