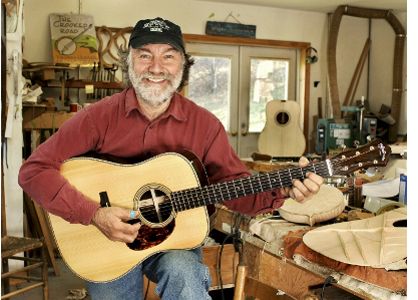 Hiltons, VA -- Saturday, September 24th, 2016, at 7:30 p.m. the Carter Family Fold in Hiltons, Virginia, will present a concert by an old time band - Wayne Henderson and Friends. Wayne Henderson's top-notch finger-picking is a source of great pleasure and pride to his friends, family, and neighbors in Grayson County, Virginia. His guitar playing has also been enjoyed at Carnegie Hall, in three national tours of Masters of the Steel-String Guitar, and in seven nations in Asia. In addition to his reputation as a guitarist, Henderson is a luthier of great renown. He is a recipient of a 1995 National Heritage Award presented by the National Endowment for the Arts. He produces about twenty instruments a year, mostly guitars; he is almost as well-known for the mandolins he has made. Doc Watson owned a Henderson mandolin.
Some of Henderson's instruments are intricately decorated, but they are most respected for their volume, tone, and resonance. Blues guitarist John Cephas said that Wayne Henderson "is probably the most masterful guitar maker in this whole United States." There is a waiting list for Henderson's guitars made up of the "famous (and not-so-famous)." He built a custom guitar for Eric Clapton. Above and beyond his great talents as a musician and instrument maker, Wayne Henderson is known as a "friend to everyone" and shares his talents and knowledge unselfishly. Wayne is one of the finest people you'll ever meet. He works tirelessly to promote the music of the mountains. You will never find a more humble, down-to-earth person than Wayne. He represents our region in a way few others could. There probably isn't a guitar picker anywhere who can out-pick Wayne. You truly have to see him to believe it.
Rounding out Wayne's group of friends accompanying him will be Helen White on fiddle and guitar, Greg Cornett on banjo and vocals, and Herb Key on bass. You couldn't find a group of finer musicians if you tried.
Helen is as good on fiddle as she is on guitar, and her vocals are exceptionally beautiful. A very accomplished musician, Helen has worked all her life with young people. Once of her biggest accomplishments was getting the JAM program active – not only in the state of Virginia – but the entire region. JAM stands for Junior Appalachian Musicians; their web site is http://jamkids.org/ [1]. Just a few weeks ago, our audience saw the evidence of all the hard work and devotion Helen and others put into getting JAM into our area schools when students from the Scott County JAM program played a couple of numbers on stage at the Fold as guests of the ETSU Old Time Pride Band. It was heartwarming to see the group of young people – nearly 20 of them – playing their hearts out. The songs they did were quite good, and these talented children of Appalachia now have the option of pursuing music as a career should they choose to.
Greg Cornett is perhaps best known for his banjo playing - and he's great. He also plays guitar, does beautiful vocals, and can whistle like no one you have ever seen. Greg is well known in the area not only as a fine musician, but as a friend to anyone who's lucky enough to meet him and get to know him. He's warm, entertaining, talented, and so sweet you just want to take him home with you. A good friend of Dr. Joe Smiddy, everyone who works at Wellmont knows Greg. Dr. Joe Smiddy first introduced him to Fold audiences, and he's been a part of the Fold ever since. Dr. Smiddy has graciously served on the Carter Music Center's Board of Directors since it was set up in 1979. In addition, he willing accepted the Fold's reigns after Janette Carter's death and served as the Board's president. Introducing us to Greg is just one of the many fine things he's done for the Fold. For more information on Greg, go to www.gregcornettmusic.com/ [2].
Herb Key is unlike anyone else you'll ever meet. One of the finest doghouse bass players there is, he's good at everything he does. In addition to playing bass, Herb will be doing some old time songs. He knows lots of them. Herb is a friend to our music, and he's a true southern gentleman. A serious gardener, he and Uncle Joe Carter used to swap tomatoes and tales and tricks of gardening. You will never see Herb without a sweet smile on his face. Talented, warm, and gracious, Herb is an example of all that's good about our Appalachian region. When it comes to bass players, Herb Key ranks right up there with the best there is.
For one of the best nights of old time music you can imagine, don't miss Wayne Henderson and Friends at the Carter Family Fold. Concert admission is $10 for adults, $1 for children 6 to 11, under age 6 free. Be sure to bring along your dancing shoes – and your friends! For more information on Wayne and all the work he does for our area's music, visit www.waynehenderson.org [3].
Carter Family Memorial Music Center, Incorporated, is a nonprofit, rural arts organization established to preserve traditional, acoustic, mountain music. For further information on the center, go to http://www.carterfamilyfold.org [4]. Shows from the Carter Family Fold can be accessed on the internet at http://www.carterfoldshow.com [5]. Partial funding for programs at the center is provided by the Virginia Commission for the Arts and the National Endowment for the Arts. For recorded information on shows coming up at the Fold, call 276-386-6054. The Fold is on Facebook – page Carter Fold – and Twitter – @carterfoldinfo.