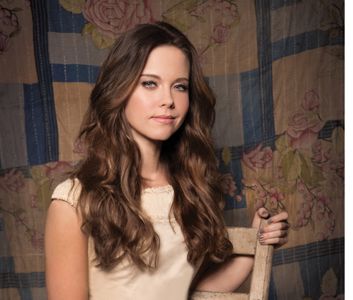 Nashville, TN -- For nearly a quarter of a century, "Reno's Old Time Music" has always had the goal of bringing fans the best Bluegrass music on the planet. With this in mind, September's lineup is a hat trick of talent featuring Rhonda Vincent, Sierra Hull and Bluegrass royalty--three big scores for the fans!!
Hull and Vincent return as special guest co-hosts for "Hats Off to Bluegrass," highlighting the best performances of the show throughout its many years.
Also in September, be sure to tune in for another episode of the "Hall of Fame" spotlight series, featuring Bluegrass royalty with archival performances by Hall of Fame inductees.
"Reno's Old Time Music" airs weekly in prime time on Saturday night at 7:00 P.M. Eastern and Thursday morning at 6:30 A.M. Eastern on RFD-TV and is sponsored by Derksen Portable Buildings, Turkey Track Bluegrass Festival, Hadley's Southern Kitchen, RenoFest 2017 and the Old Time Music Store (click HERE for more information and for exact times in your area).
September 3-8: Co-Hosted by Sierra Hull
September 10-15: Co-Hosted by Rhonda Vincent
September 17-22: "HALL OF FAME"-Spotlight Series
September 24-29: Co-Hosted by Sierra Hull
At only 24, Sierra Hull has enjoyed career that has spanned more than a decade. She was given her first mandolin at age 8. By age 11, Alison Krauss had called with an invitation to the Grand Ole Opry stage; by 12, Rounder was expressing interest (she signed a record deal with Rounder at 13, with her first album released at 16). She's also performed at the White House, Carnegie Hall (twice), The Kennedy Center, and traveled around the world sharing her music. Then there's the fact that Berklee honored her with the school's most prestigious award, the Presidential Scholarship, the first for a Bluegrass musician. Today, she's earning considerable respect in the Bluegrass world. Her latest album, Weighted Mind, debuted at #1 on Billboard magazine's weekly Bluegrass chart in February. Sierra is a current final nominee for IBMA "Mandolin Player of the Year"--her ninth nomination in this category. Good luck Sierra!
Rhonda Vincent, dubbed "The New Queen of Bluegrass" by the Wall Street Journal, began her musical journey at the age of three, performing alongside her family members on what was called The Sally Mountain Show. She sang bluegrass as a teenager, then recorded a couple of mainstream country albums in the 1990's and was asked if she could "get the bluegrass out of her voice." Confused and heartbroken, she put together her first bluegrass band. Today, Rhonda Vincent & The Rage are the most award-winning band in Bluegrass music history. In addition to being a 15-time Entertainer of the Year, Rhonda has established herself as one of the most visible, best-selling artists in the genre, whose cross-over appeal stretches well into the mainstream media. Vincent has also performed and recorded with the best of the best, including Dolly Parton, Willie Nelson, Keith Urban, Alan Jackson, Faith Hill, Martina McBride, Daryle Singletary, Richard Marx, Hank Williams Jr. and more. Rhonda is, once again, up for the IBMA's Female Vocalist of the Year. We wish Rhonda the best of luck!
This award-winning weekly music/talk show is the brainchild of Producer/Host Ronnie Reno, whose over-60-year career helped forge the sound and songs of so many legendary Bluegrass and Country Music entertainers, including Reno & Smiley, The Osborne Brothers, Merle Haggard, The Reno Brothers, Willie Nelson, Johnny Cash, Vassar Clements, Sammi Smith, Johnny Paycheck, Mac Wiseman and Conway Twitty, to name just a few.
Reno began airing his show in 1993 on another network as "Reno's Old Time Music Festival." It was the first and only national television show featuring Bluegrass and acoustic music and could be seen in 28 million households. Because of the show's rich music/talk format and Reno's influence in getting top-name guests, the show was a huge success, earning Reno a nomination for the prestigious Cable Ace Award for "Best Musical Series" and the nickname "The Dick Clark of Bluegrass."
Today, "Reno's Old Time Music" has nearly doubled its carriage with its transition to the RFD-TV network, reaching over 50 million homes weekly and pulling an estimated 1.3 million monthly viewers. Although the name has changed slightly, the format remains largely the same, which includes performances by Ronnie Reno & The Reno Tradition and the weekly featured guest, an interview segment, the extremely popular "Super Pickers" segment and a sterling closing performance by the guest, who is joined by Reno on the Main Stage. Reno was honored with both the IBMA "Distinguished Achievement"(2006) and "Broadcaster of the Year" (2013) awards and is a current top-5 IBMA for 2016!
In 2015, Reno released his first album in over a decade, Lessons Learned, on Rural Rhythm Records (available on iTunes, Amazon and wherever Bluegrass and Country music are sold).
In February 2016, Ronnie Reno was inducted into the Preservation Hall of Greats, SPBGMA's highest honor. Reno's name was added to an incredible list of Bluegrass legends and seminal performers who have been inducted since 1984, beginning with Bill Monroe, and including Ronnie's father, Don Reno, who was inducted along with Red Smiley in 1985.
For more information on Ronnie Reno or "Reno's Old Time Music," please visit www.ronniereno.com [1]