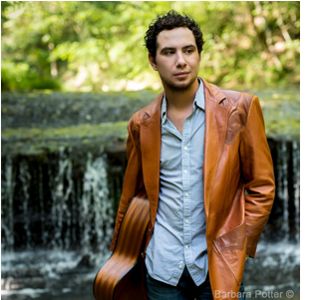 Nashville, TN (September 1, 2016) – Rural Rhythm Records is pleased to announce the release of "Kentucky Blue" by hit songwriter Billy Droze. At only 29, Billy Droze has acquired the title of "hit songwriter" over the years co-writing such songs as; I Know Better" (#1 on Bluegrass Today Weekly Chart) - The Grascals, "Her Memory Again" (#5 on Bluegrass Today Weekly Chart) - Flatt Lonesome, "Bottle Was a Bible" – Junior Sisk, "Big Pain" – Marty Raybon, "Free Again" – Shenandoah, "Sunday Clothes" – Randy Kohrs, "That's Why I Run" - Billy Yates (#1 in Europe), "You Never Know" – Darryl Worley, "Like I Do" - Jamie O'Neil and more.
"Kentucky Blue" written by Billy Droze and Lance Droze, features Droze's soulful vocals and lead guitar with the help of his friend Ronnie Bowman on harmony vocals and Marja Droze and top bluegrass pickers Scott Vestal (Banjo), Rob Ickes (Dobro)and Andy Leftwich (Fiddle / Mandolin). The single is produced by Billy Droze & Ronnie Bowman and includes performances by Jason Roller (Rhythm Guitar) and Kevin Grant (Bass).
"Kentucky Blue is somewhat of a light hearted fiction of a man who hit rock bottom over lost love and perpetual heartbreak. The story paints the scene of a man leaning on sad songs and memories of the past with no way to escape. Though hoping all along he might find a way out of his predicament it's almost as if he has found comfort in his own hopeless misery. This semi retro composition is reminiscent of classic Hank with the cry of the lyrics almost moaning out the state his obviously broken heart is in."
  ~ Billy Droze
Click here [1] to listen to the single "Kentucky Blue". The single "Kentucky Blue" is available for DJ downloads on AirPlay Direct [2].
Learn more about Billy Doze, the single "Kentucky Blue" and watch Billy Droze & Kentucky Blue perform "Kentucky Blue".
Billy Droze is very proud of his band Kentucky Blue and is excited to introduce them to the music world in his own words. "Kentucky Blue is a 4 piece Band Comprised of 27 year old David Freeman on Mandolin, David has an extremely advanced progressive style a la Chris Thile, but all his own, that will leave you wanting more and hanging on every note! On Banjo we have the 17 year old virtuoso Mathew Davis. Wow what can I say about Mathew, one of those you'll have to see to believe musicians. He plays eight instruments but excels greatly on the 5 string Banjo "One of the most intricate melodic players I have ever had the pleasure of working with" B.R.D. Lastly the glue that keeps the whole thing grooving right along, Mr. Mitchell Brown (Band Leader) a very seasoned upright bass player who has been band leader with acts such as "Joey & Rory ", "Charlie Louvin" and also played with Rhonda Vincent for a spell, to name a few. Brown has over 200 Grand Ole Opry performances under his belt to date".
Droze continues speaking about Kentucky Blue saying, "I am so genuinely excited to be working with such a group of guys! They are as committed as I am to making music unrefined earthy and real, Kentucky Blue is unique in the scene of a sound of music that is straight from the heart, with original music you won't find anywhere else, all the while paying tribute to greats! Everyone in the band can stand alone but would rather join forces and create a little magic. Deeply rooted in both traditional Bluegrass and Country worlds while lending a new air that is simply different and just feels good down to the core."
Billy Droze & Kentucky Blue are booking dates and can be contacted at www.billydroze.com [3].
Born in Lafayette, Louisiana, the 10th of 12 children, Billy Ryan Droze grew up in Alabama knowing that music was his life as far back as he can remember. "It's as if I was inserted with a computer chip that made my life revolve around music." But the reason is just as likely the influence of his father, Bob "Red" Droze, a dedicated country, gospel, and bluegrass musician, who in 1962 released an album on Rural Rhythm Records making father and son label mates.
Billy was on stage with his dad by the time he was 4 years old, and spent his childhood singing with him everywhere from churches to bluegrass festivals to honky-tonks, developing a passion for traditional country, gospel, and roots music that has influenced him ever since.
He learned to play guitar when he was 12, and as a teenager would perform anywhere, anytime, for anyone who would listen, sometimes walking miles down country roads, carrying his guitar, just for the chance to play a few songs.
By the time he was 16, Billy's dad had moved on to Texas, so he followed him there and spent a year or so playing with his band. Then after rambling around Texas for a while, he decided it was time to move to Nashville, where he's lived ever since. Continuing to play anywhere he could, and constantly honing his skills as a song smith and musician, Billy steadily expanded his ever-growing fan base, dramatically increased by several tours singing lead for the Grammy-winning group Shenandoah (using the name Billy Ryan).
Billy Droze has been touring and making music non-stop for more than a decade. This truly unique artist and hit songwriter, with lyrics that dig deep into the heart of life, melodies and a guitar style that combine his traditional roots with a modern twist that's all his own, and a voice so soulful, earthy and sincere that every song draws you in to enjoy his signature sound experience. More information is at Billydroze.com