---
International Bluegrass Music Museum Fall Concert Lineup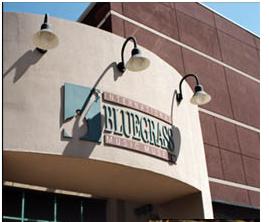 Owensboro, KY -- The International Bluegrass Music Museum has annouced their fall benefit concert schedule. Money raised from this concert series help the museum continue our efforts to preserve and honor the legacy of bluegrass music including music educational programs, general museum operating expenses, the Video Oral History Project (VOHP) and artifact collection efforts. Season passes available for $104 beginning Wednesday August 24 at 10 am CST; passes include one ticket to each show in the series. If series tickets do not sell out, individual show tickets will be available within the coming weeks.
This fall's lineup includes:

September 9
Wood & Wire

As its name suggests, Wood & Wire is a young acoustic band with a love for pure music played well. A culmination of distinct musical personalities, the band's influences range from Led Zeppelin to Doc Watson - and everything in between. "We're from all over the country," says Bassist Dom Fisher, describing the resulting sound as "strongly rooted in traditional bluegrass, with elements of progressive grass such as modern harmony and song forms."

September 15
Front Country

Front Country's dynamic instrumental textures take flight with grace and gravitas while rooted in the relentlessly soulful vocals of lead singer-songwriter Melody Walker. Along with mandolinist Adam Roszkiewicz, guitarist Jacob Groopman, violinist Leif Karlstrom and bassist Jeremy Darrow, this quintet has been called "passionately intoxicating" and "orchestral" and Melody's bluesy vocals have been described as "rafter-shaking".

October 7
Tim O'Brien

In Tim O'Brien's music, things come together. The uncanny intersection of traditional and contemporary elements in his songwriting, his tireless dedication to a vast and still-expanding array of instruments, and his ongoing commitment to place himself in as many unique and challenging musical scenarios as possible has made him a key figure in today's thriving roots music scene - and well beyond it.

October 27
The Honeycutters

The Honeycutters have a voice you can't ignore; a voice of persistence, of struggle and of hope, a voice that leads the new music movement erupting out of Asheville, NC. The Honeycutters are Amanda Anne Platt (lead vocals), Rick Cooper (electric and upright bass), Josh Milligan (drums and vocal harmonies), Matt Smith (pedal steel and electric guitar), and Tal Taylor (mandolin).

November 10
Molly Tuttle Band

A virtuoso multi-instrumentalist and award winning songwriter with a distinctive voice, Molly has turned the heads of even the most seasoned industry professionals. Her lovely voice, impeccable guitar playing, and sensitive song writing make her a star on the rise.

November 18
Blue Mafia

Formed in 2011 by Tony and Dara Wray, Blue Mafia has become a fan and promoter favorite. Easily recognized yet seldom imitated, Blue Mafia is just the right combination of traditional and progressive bluegrass. "We love putting our own twist on standard bluegrass tunes, and creating new music."

December 9
The Boxcars

Every time The Boxcars open their cases, a clinic on how to play Bluegrass music ensues. The two-time IBMA Bluegrass Instrumental Band of the Year has achieved a level of musicianship that sets a standard in the genre. They have a knack for merging the power of traditional bluegrass with an updated style that draws in new fans.
Tickets are available via http://www.bluegrassmuseum.org/concerts/ [1]
---
Source URL: http://cybergrass.com/node/5506
Links
[1] http://www.bluegrassmuseum.org/concerts/
[2] http://cybergrass.com/taxonomy/term/169
[3] http://cybergrass.com/taxonomy/term/2612
[4] http://cybergrass.com/taxonomy/term/413
[5] http://cybergrass.com/taxonomy/term/2626
[6] http://cybergrass.com/taxonomy/term/5125