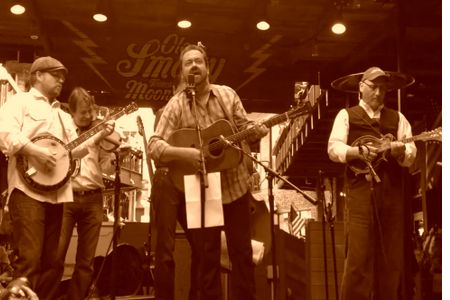 Nashville, TN -- The International Bluegrass Music Association (IBMA) has released the performance schedule for PNC presents Wide Open Bluegrass, which takes place Sept. 30-Oct. 1 in Raleigh, North Carolina at the Red Hat Amphitheater. Each 11-hour day of live performances features a powerhouse line-up of artists – including IBMA Hall of Famers – playing a wide range of bluegrass styles, from traditional to progressive.
Wide Open Bluegrass is an urban bluegrass event that includes both ticketed main stage performances at Red Hat Amphitheater and free stages. Up to half of the net proceeds from the ticket sales of concerts at Red Hat Amphitheater go to the IBMA-operated Bluegrass Trust Fund, a 501(c) 3 non-profit organization that provides financial assistance to individuals in the bluegrass music community in times of emergency need.
Two-day and single day reserved and general admission (lawn) tickets to the Red Hat Amphitheater shows are available at https://ibma.org/world-of-bluegrass/buy-tickets [1]. The festival is part of IBMA's World of Bluegrass events, which begins at the Raleigh Convention Center Tuesday, September 27. Tickets and information for all World of Bluegrass events can be found at https://ibma.org/world-of-bluegrass/ [2].
The Red Hat performance schedule for Friday, September 30: (subject to change) Doors open at 10:00 a.m.
11:00 a.m. - Laurie Lewis and the Right Hands with special guest Alice Gerrard
12:15 p.m. - Peter Rowan Band
1:30 - Marty Stuart and His Fabulous Superlatives
2:45 - Dailey & Vincent
4:15 - Soggy Bottom Boys featuring Dan Tyminski, Barry Bales, Ron Block, Mike Compton, Stuart Duncan, Pat Enright, Jerry Douglas
5:45 - Jerry Douglas presents the Earls of Leicester
7:30 - Ricky Skaggs & Kentucky Thunder
9:30 - Nitty Gritty Dirt Band

L
The Red Hat performance schedule for Saturday, October 1: (subject to change) Doors open at 10:00 a.m.

11:00 a.m. - Becky Buller Band
12:15 p.m. - Russell Moore and IIIrd Tyme Out
1:30 - John Cowan with Darin & Brook Aldridge and Friends
2:50 - Larry Sparks & The Lonesome Ramblers
4:20 - The Kruger Brothers and Symphony of the Mountains present "Spirit of the Rockies"
6:00 - Greensky Bluegrass
7:45 - Steep Canyon Rangers
9:30 - Del McCoury Band
Additionally, an after hours party – including a special performance – will take place October 1 at the Lincoln Theatre. Details forthcoming.
IBMA is the professional trade organization for the global bluegrass music community. The organization's six-year stay in Raleigh is the result of a partnership with The Greater Raleigh Convention and Visitors Bureau, the Raleigh Convention Center, PineCone (The Piedmont Council of Traditional Music), the City of Raleigh, and a local organizing committee.