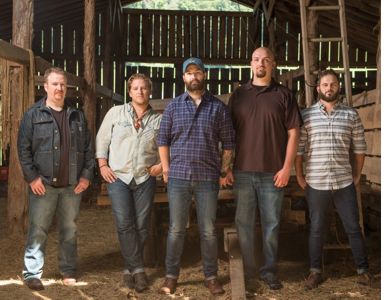 Hiltons, VA -- Saturday, August 20th, 2016, at 7:30 p.m. the Carter Family Fold in Hiltons, Virginia, will present a concert by Folk Soul Revival.. Folk Soul Revival is a harmony drenched, boot stomping, rowdy and rootsy acoustic group from right here in the Appalachian Mountains. Their diversity, creativity, and passion are evident to anyone who's ever seen them perform. With their distinct vocals, unique instrumentation, haunting four-part harmonies and sheer talent, the boys have garnered much success and have attracted a large following.
A Folk Soul Revival concert is consistently eventful and features strong songwriting, spot on vocals, earthy instrumentation, and an unreserved honesty. Band members of Folk Soul are: Daniel Davis – guitar and vocals; Brandon Sturgill – upright bass and vocals; Justin Venable – baritone guitar and vocals; Justin Louthian – drums, percussion and vocals; and Chad Light – guitar, banjo and pedal steel. Admission to the concert is $10 for adults, $2 for children 6 to11, under age 6 free
Based in Bristol, VA/TN, the birthplace of country music, Folk Soul Revival is one of southwest Virginia and northeast Tennessee's most beloved and sought after acts. Performing original Americana, the quintet's distinct, radio-ready sound and back-porch instrumentation have garnered success with high profile gigs opening for the likes of Travis Tritt, Jason Isbell, Eric Church, Justin Townes Earle, Dr. Ralph Stanley, and many more. Folk Soul Revival's loyal fan base, referred to as "the congregation," consistently packs sold out shows across the southeast while singing along with the band word for word. Folk Soul annually plays the Bristol Rhythm & Roots Reunion. They have also performed at Floydfest and are among the best-selling acts to perform at the lengendary Carter Family Fold and the Down Home.
Folk Soul's frontman, Daniel Davis, achieved second place in the prestigious Chris Austin Songwriting Contest at Merlefest in 2013 for the song Homesick. The band's third album, Prompting the Dapperness, rose to number 12 on iTunes' country chart and reached number 99 on the day of its' release. The band also climbed to number 10 on Billboard Magazine's Heatseekers chart (South Atlantic Division). Virginia Living readers also listed them among southwest Virginia's top three bands in 2012. In 2011, Folk Soul was voted Virginia is for Lovers Band of the Year at Rhythm and Roots. Their second album, Words Off a Tongue, was listed among No Depression's top 15.
The band has also been spotlighted on Music City Roots and Sirius/XM's Outlaw Country. While at first glance Folk Soul Revival may not seem like the typical band you would expect to see at the Carter Fold, they exemplify where the music of our region began and how it will always be the basis of other music that followed – bluegrass, country, and rock. Expect to see the family-oriented show the Fold is known for – no alcohol permitted. Folk Soul fans often attend shows that are standing room only. With seating for over 800, they won't have that problem at the Fold. Both Fold regulars and Folk Soul Revival fans love to dance…and FSR's uplifting energy and song selection will keep everyone dancing the night away! We have the largest dance floor in the Tri-Cities and can easily accommodate fans who love to dance to the music of Folk Soul.
Bring along your friends and celebrate all that makes our mountain region so unique, heartwarming, and unforgettable. Don't miss Folk Soul Revival at one of our region's most historic venues. Their first show in September of 2012 packed the house, and their subsequent performances at the Fold have been the same. The band performed at two Carter Family Festivals. The Carter Fold and Folk Soul Revival – it just doesn't get any better than that! For more information on Folk Soul Revival, go to their web site - http://www.folksoulrevival.com/ [1]. You can also check them out on Myspace, Facebook and YouTube.
Carter Family Memorial Music Center, Incorporated, is a nonprofit, rural arts organization established to preserve traditional, acoustic, mountain music. For further information on the center, go to http://www.carterfamilyfold.org [2]. Shows from the Carter Family Fold can be accessed on the internet at http://www.carterfoldshow.com [3]. Partial funding for programs at the center is provided by the Virginia Commission for the Arts and the National Endowment for the Arts. For recorded information on shows coming up at the Fold, call 276-386-6054. The Fold is on Facebook – page Carter Fold – and Twitter – @carterfoldinfo.