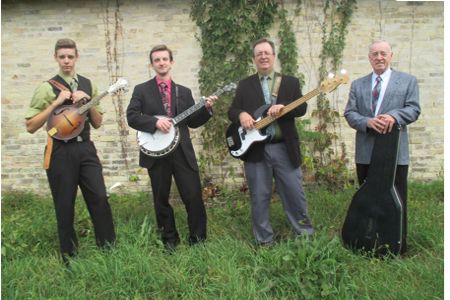 Elizabeth, IL -- Plum River Records is proud to announce the release of "Answer to My Prayer," the highly anticipated first single from an upcoming gospel album by Bluegrass Express. The single features Greg Underwood on bass and lead vocals, band patriarch Gary Underwood on guitar, third generation member Jacob Underwood, on banjo and tenor vocals, 18 year old musical prodigy Nate Burie on mandolin and baritone vocals, and special guest and former Grand Ole Opry staff musician, Tim Crouch, on fiddle.
"Answer to My Prayer," was penned by bassist and lead vocalist Greg Underwood, who spent about a year playing bass for Asylum recording artists, The Cox Family, and has sung tenor for the late Charlie Louvin of The Louvin Brothers. Greg has written many songs, including "Whisper in the Wind," which received significant airplay on bluegrass and country radio. Following the release of "Whisper in the Wind," Bluegrass Unlimited stated "'Whisper in the Wind' comes highly recommended for extensive airplay, and could be a prime candidate to become a modern bluegrass standard." Greg has written many of the band's other songs over the years, including eight of the twelve tracks on their 2014 release "In Our Own Words." "In Our Own Words" featured all original material, and received great reviews and significant airplay. As for the original material on "In Our Own Words," Bluegrass Unlimited had this to say. "The title alludes to the fact that all of the material here is original. It's an embarrassment of riches.
The songs cover quite a range of subjects and manage to be different enough to keep things interesting." "Answer to My Prayer" is certainly no exception. It's another fine song, with a great gospel message.
Look for an entire all gospel album to be released later this summer. Listeners can expect to hear the tight, family harmony, stellar picking, original material, and dynamic performances that Bluegrass Express has been delivering for over 35 years. In addition to Tim Crouch's fine fiddling, John R. Bowman and Justin Moses also made guest appearances on the project. Stay up to date by liking Bluegrass Express on Facebook, following them on Twitter, and visiting www.BluegrassExpressBand.com [1].