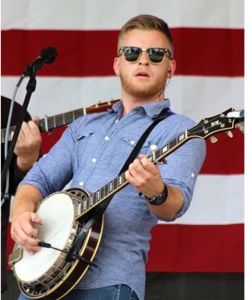 AirPlay Direct's Collective Evolution is pleased and proud to sign Levi Austin to a Career Development Deal with Collective Evolution. Collective Evolution is a boutique, high-end entertainment and media consulting firm. Our clients include recording artists, record labels, record producers, management companies and radio promotion / PR firms. We deliver creative consultative services and customized business solutions to our clients based upon their specific needs and goals.
"Levi Austin is my favorite banjo player to watch on stage. The true love and enjoyment of music runs through his veins, and he pours every bit of it out on stage for his fans … new and old. This coupled with his excellent musicianship, personality and professionalism is what separates him from the pack." states Robert Weingartz, Chairman / Creator - AirPlay Direct & Chief Strategist - Collective Evolution. "This young man of 24 years old has a very bright future ahead of him indeed. I could not be more proud and honored to be working with Levi closely as he continues to refine his craft and career."
Levi started playing banjo at the age of nine. He has been recording and touring nationally since the age of fourteen with the band Nu-Blu. He has had the honor and privilege of playing and recording with many great musicians for a man of his age. Levi recalls his favorite and most magical moments were when he was humbled to have the opportunity to hang out with… and then record with the legendary Sam Moore. Moments in time he says he will always cherish and never forget.
"I could not be more excited to be joining forces with Robert and his team at Collective Evolution!", says Levi Austin, Independent Artist. "I have watched their repeated success and influence in the music industry grow for several years, and look forward to seeing what opportunities will unfold in my own career as a result of their collective expertise and guidance."
AirPlay Direct is the premiere digital delivery / distribution company, brand and platform for engaging radio and airplay worldwide. AirPlay Direct is a professional B2B music business environment for artists, labels, publishing companies, radio promotion firms, PR and Media firms, etc.
AirPlay Direct currently has over 10,000 radio station members in 92 countries. AirPlay Direct also serves over 40,000 artist / label membersglobally on a daily basis. AirPlay Direct currently operates and services the largest global independent radio distribution network in the world with respect to Americana, Bluegrass, Folk, Blues, Alt. Country, Roots Music, etc. www.AirPlayDirect.com [1]