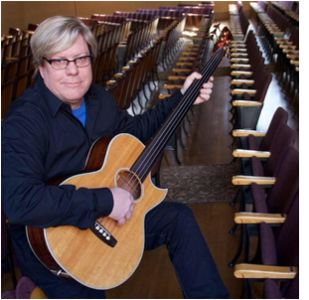 AirPlay Direct is pleased and proud to announce the signing of Ray Cardwell, our newest Artist Endorsee. Currently Ray is putting the final touches on his long awaited debut solo album Tennessee Moon. The album will be released in the next few months.
"I'm so honored and pleased to be working with Robert and Lynda Weingartz at AirPlay Direct," said Ray Cardwell. "After years of playing a dozen different genres of music and spending a lot of time as a sideman, I've come back home to my roots for my first solo album. I'm so excited about sharing my 'bluegrass soul' perspective and tunes with the folks out there. AirPlay Direct is a God send for me, and I'm so grateful for their generous support."
A little about Ray Cardwell: Ray Cardwell is a Nashville-based artist from the Missouri Ozarks who sings original, roots-based bluegrass music with a contemporary twist and a hard blues edge, cranked to 11. Fans describe his signature style as "Bluegrass Soul." Ray will tell you he has spent his life forging a diverse musical path built on the bedrock of a bluegrass rhythm section. A prolific songwriter, Cardwell's powerful voice has caught the attention of some of Nashville's most respected bluegrass musicians, several who are lending their substantial musical expertise to his recent efforts. Stay tuned for more news soon on Ray's debut album, which will feature an impressive musical guest list: John Cowan, Scott Vestal, Andy Leftwich, Danny Roberts, Rob Ickes, Jesse McReynolds, Claire Lynch and Ronnie Bowman, to name a few.
"One of the most interesting things about Ray is his range," said Pat Flynn, the highly respected guitar stylist and producer of the upcoming Ray Cardwell Tennessee Moon CD. "He has a very diverse musical background. We have a bluegrass foundation, but we're doing everything from blues and gospel a cappella to straight-up bluegrass."
AirPlay Direct is the premiere digital delivery / distribution company, brand and platform for engaging radio and airplay worldwide. AirPlay Direct is a professional B2B music business environment for artists, labels, publishing companies, radio promotion firms, PR/Media firms, etc.
AirPlay Direct currently has over 10,000 radio station members in 92 countries. AirPlay Direct also serves over 40,000 artist / label members globally on a daily basis. AirPlay Direct currently operates and services the largest global independent radio distribution network in the world with respect to Americana, Bluegrass, Folk, Blues, Alt. Country, Roots Music, etc. www.AirPlayDirect.com [1]