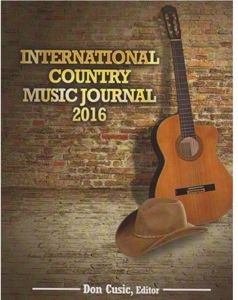 Don Cusic
is accepting manuscripts for a Bluegrass themed Special Issue of the International Country Music Journal until Monday 1 August. International Country Music Conference (ICMC) is waiting for an August 1st official Belmont approval for use of the Frist Lecture Hall in the Gordon E. Inman Center for ICMC 2017. The conference hopes to be able to officially announce that Thursday 1 June through Saturday 3 June will be the dates for ICMC 2017. We thought it best to let you know of the likely ICMC 2017 dates. Of course, paraphrasing a New York Yankee catcher "It's not official till it's official."
New ICMC friend Randy Williams greatly enjoyed ICMC 2016 and the chance to interact with colleagues who had such deep knowledge. Randy is beginning research on his PhD dissertation at Tennessee Tech University in Cookeville. His focus will be on the 'Heaven and Hell,' 'Sacred and Profane' dichotomy found in lyrics as well as analysis of the country music culture—sounds like a Curt Ellison title now, doesn't it!? Please take a look at Randy's video below. He would like input. You can provide Randy input at daibando@gmail.com [2] and on his "Heaven and Hell: U.S. Roots Music" FaceBook page.
We also want to remind you that unexpected food, rental, and technical support charges initiated during spring 2016 significantly increased the cost of ICMC 2016 and will be permanent. We will need to increase the registration fee for ICMC 2017 to $200 as we want to maintain the same level of amenities that help give ICMC its special cultural identity.
Once ICMC 2017 dates are official, we will announce a late October 2016 deadline in a Call For Proposals. Of course, some 'early birds' have already submitted some impressive proposals and we won't discourage such behavior.
As usual, please LIKE the International Country Music Conference FaceBook page [3] and share interesting items to further ICMC's reach. We continue to send tweets and appreciate Likesand Retweets. Should you know of colleagues who would appreciate receiving ICMC updates please send their names and email addresses to jakenson@tntech.edu [4].
For many years, the ICMC has had excellent presentations on Bluegrass Music including topics on Uncle Dave Macon, Josh Graves, Appalachian Mining Songs, Carlton Haney, Ralph Peer and more. The Charles K. Wolfe Memorial Panel is always an informative and exciting part of the conference.
Bluegrass is always a welcome topic at ICMC and this is your chance to become a participant. Time is short so get your entries in today.