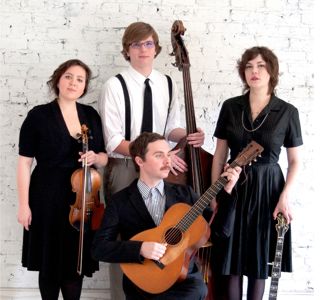 Galax, VA -- Two stellar groups that do their regions proud take the stage on Saturday, July 30, at the Blue Ridge Music Center, milepost 213 on the Blue Ridge Parkway. The South Carolina Broadcasters open the performance at 7 p.m., followed by Bill and the Belles.
With striking three-part harmonies and masterful instrumentation, Bill and the Belles, hailing from Johnson City, Tennessee, breathe new life into the sounds of early country music. At the foothills of the Blue Ridge and the forefront of old-time music, the group continues to further music traditions of their region. From sentimental Southern ballads to the popular songs of Tin Pan Alley to fiddle breakdowns, the group's shows are a celebration of country music's former diversity.
Stars of the Lowe Vintage Radio Show on WPAQ and masters of primitive bluegrass, the South Carolina Broadcasters bring Southern music at its finest to the stage. Featuring former members of The Smokey Valley Boys and Roan Mountain Hilltoppers, the trio comprised of David and Ivy Sheppard and Andy Edmonds puts its own spin on the music of the foothills, whether performing new songs or rare tunes from the archives of music.
Concertgoers are invited to arrive early for a performance presentation by Bob Carlin titled, History of the Banjo in Song, from 2 to 4 p.m. Carlin is well-known in the music world as a talented clawhammer style banjo player, producer, teacher, and author. His latest book, Banjo: An Illustrated History, explores the instrument's role in music history. Visitors can also check out the exhibit Banjos: From Africa to the New World from noon to 4 p.m. The exhibit features two dozen reproduction/replica banjos representing the instrument's roots in Africa and the New World, and its evolution in the pre-Civil War, Minstrel, and pre-factory eras. The banjos, crafted by expert instrument maker Bob Thornburg, will be on display July 25 through September 5.
The concert is sponsored by The Old-Time Herald. During the show, The Galax Smokehouse will be on site serving its signature barbecue, down-home sides, drinks, and desserts.