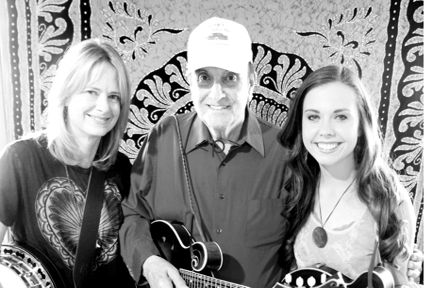 Nashville, TN -- Legendary Opry star and bluegrass pioneer Bobby Osborne has launched a campaign with PledgeMusic to record a new album. At the age of 84, Bobby is the oldest living artist to utilize PledgeMusic, the premier crowd funding platform for musicians. The campaign only has 6 days left and is currently 49% funded.
The album will feature an all-star cast including Sierra Hull, who recently joined Bobby for an impromptu Facebook Live performance of the Bobby Osborne classic 'Pain in My Heart' for a PledgeMusic update. The project will be produced by Alison Brown (Grammy winning composer/instrumentalist, 2015 IBMA Distinguished Achievement Award winner, and co-founder of Compass Records) and recorded at Compass Sound Studios in Nashville, TN and released on Compass Records.
As one of the elder statesmen of bluegrass, Bobby carries on the music's legacy, his one-of-a-kind, high lonesome tenor vocals as strong as ever. He plays the tradition forward in his role on the faculty at the Kentucky School of Bluegrass and Traditional Music in his home town of Hyden, Kentucky. In addition, Bobby is a regular most weekends at the Opry, maintains a full festival touring schedule, and was recently featured at the Ryman's Bluegrass Nights as part of the Legends of Bluegrass that included a performance with his brother Sonny Osborne.
Bobby Osborne's PledgeMusic campaign includes truly unique incentives for fans including a Backstage at the Opry package, one of his signature stage hats, and a signed Bobby Osborne signature mandolin. It also includes VIP packages for the 23rd Annual Osborne Brothers Hometown Festival, August 4-6th in Hyden, Kentucky.
Producer Alison Brown adds: "One of the things that the bluegrass community does really well is to honor its elders. Bobby Osborne played a pivotal role in shaping the genre in its early days both through the classic songs he brought to the music like "Rocky Top" as well as through the spirit of creativity and innovation that characterized the Osborne Brothers' sound. Although he's in his 7th decade as a recording artist, Bobby still has a lot to say musically. I'm delighted to be a part of an effort that will expand his recorded catalog and bring some new Bobby Osborne music to his fans as well as to the upcoming generation of bluegrass and roots music fans."
Recording will begin late summer and release date is slated for early 2017 on Compass Records.