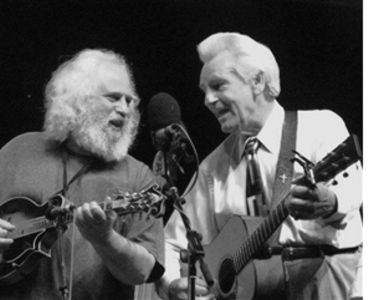 Del McCoury and David Grisman are both American music legends and Bluegrass Underground is excited to announce ticket sales are now open to see them together in one of the world's coolest, most intimate venues.
Del McCoury met David Grisman met at the first show Del ever played (on banjo) with Bill Monroe in the spring of 1963 at New York University in Greenwich Village. Three years later, Del & Dawg played their first gig together in Troy, NY at the Rensselaer Polytechnic Institute. They both celebrated the arrival of first-born sons, Monroe Grisman and Ronnie McCoury, within a month of each other.
Through the years they have shared the stage at venues and festivals across the country and in 2012 released Hardcore Bluegrass, a unique collection of bluegrass classics, made at two Dawg studio jam sessions in the 1990s, Del & Dawg celebrates the nearly 50-year bluegrass friendship that these two legendary musicians have shared.
This October 29th at 1PM, you can catch this dynamic duop at the Volcano Room in Cumberland Caverns, McMinnville, Tennessee. Cave doors open to general public: 12:00 pm. Featured artist performance time: 1:00-2:30 pm.