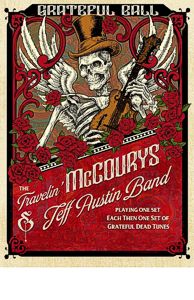 The Travelin' McCourys are proud to announce " Tour" with Jeff Austin Band! After the success of the inaugural Grateful Ball in St. Louis, the bands decided to make a tour out of it! The ball consists of a full set from each band and then a set with both bands on stage together playing the songs of the Grateful Dead. The Travelin' McCourys do not stand still. They are on the road—and online—entertaining audiences with live shows that include some of the best musicians and singers from all genres. It's always different, always exciting, and always great music.
No other band today has the same credentials for playing traditional and progressive music. As the sons of bluegrass legend Del McCoury, Ronnie McCoury on mandolin and Rob McCoury on banjo continue their father's work—a lifelong dedication to the power of bluegrass music to bring joy into people's lives. And with fiddler Jason Carter and bassist Alan Bartram, the ensemble is loved and respected by the bluegrass faithful. But the band is now combining their sound with others to make something fresh and rejuvenating.
They recently played with the Allman Brothers at Wanee Fest and then brought the house down at Warren Haynes' Annual Christmas Jam, an invitation only Southern Rock homecoming. Their jam with the Lee Boys was hailed by many as the highlight of the evening, and once word of the live video hit the streets, sent new fans online to watch a supercharged combination of sacred steel, R&B, and bluegrass. They've also performed with Warren Haynes, Phish, and have a tour scheduled with the aforementioned Lee Boys. Ronnie McCoury described it as "peanut butter and jelly." It was just right.
They can push forward so far because their roots are so deep. The band has a confidence that only comes with having paid their dues with twenty years on the bluegrass road. Other groups and new fans hear this immediately—the tight rhythm, the soulful material, and the confidence in taking bluegrass from the safety of the shore into uncharted waters.
Ronnie says, "We like to go in and play traditional bluegrass music the way we do it with Dad, but we also like to be able to step into situations where we can really stretch out. If we need to plug in, we'll plug in. We're open to anything."
It's that attitude, backed up by talent, that marks great musicians, traditional or progressive. The Travelin' McCourys are twenty-first century musical pilgrims and adventurers. They're onto something new, just like Bill Monroe was in the 1940s, but now we can see and hear that adventure live or online. Go see them, or—if you hold still long enough—they'll come to you.
The work continues... These words have never rung more true for Jeff Austin. After almost twenty years of live creation and endless joy seeking Jeff has returned to the scene with a new found sense of passion. Sharing the stage each night with a band of like-minded adventurers he attacks each performance with a fire and desire to move and shake everyone in sight.
Each show stands as a statement. A statement of music... A statement of connection... A statement of just how joyful each moment can be. From note to note…song to song…these musical warriors set out to turn each ear in a way never heard before. The path is set. The energy is undeniable. Because with each new step The Jeff Austin Band takes... The work continues.
The Grateful Ball Tour dates include:
10/20 - State Theatre - State College, PA
10/21 - Rex Theater - Pittsburgh, PA
10/22 - Ardmore Music Hall - Ardmore, PA
10/23 - Flying Monkey Performance Center - Plymouth, NH
10/24 - Rams Head on Stage - Annapolis, MD
10/25 - Appalachian Brewing Company - Harrisburg, PA
10/26 - The Hamilton Live - Washington, DC