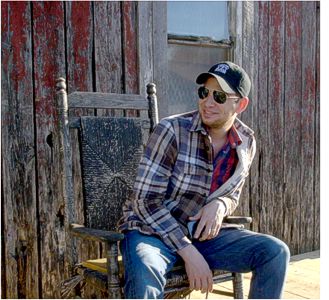 Nashville, TN -- Rural Rhythm Records is pleased to announce the first single "Columbus Stockade Blues" by hit songwriter Billy Droze. At only 29, Billy Droze has acquired the title of "hit songwriter" over the years co-writing such songs as; I Know Better" (#1 on Bluegrass Today Weekly Chart) - The Grascals, "Her Memory Again" (#5 on Bluegrass Today Weekly Chart) - Flatt Lonesome, "Bottle Was a Bible" – Junior Sisk, "Big Pain" – Marty Raybon, "Free Again" – Shenandoah, "Sunday Clothes" – Randy Kohrs, "That's Why I Run" - Billy Yates (#1 in Europe), "You Never Know" – Darryl Worley, "Like I Do" - Jamie O'Neil and more.
However for his first single, Droze puts his soulful mountain vocals on the classic "Columbus Stockade Blues" with the help of his friend Ronnie Bowman on harmony vocals and top bluegrass pickers Rob Ickes (Dobro)and Andy Leftwich (Fiddle). The single is produced by Billy Droze & Ronnie Bowman and includes performances by David Freeman (Mandolin), Gary Waldrep (Banjo), Jason Roller (Guitar) andKevin Grant (Bass)
"I first heard Columbus Stockade Blues as a teenager in Alabama. from a dear friend I called my Grandfather Jack Alexander. He would pick up his old Martin and sing it to me and quote these words jokingly with a grin "Bill if you had any sense you'd record this song and make it big" I'd laugh and shrug it off all the while knowing I would just for him if ever given the chance. Sam Passamano, II, President of Rural Rhythm Records, and I talked about recording a classic traditional song and I immediately heard Jack in the back of my mind telling me to PICK 'Columbus Stockade Blues'. So I did…When it came down to cutting the vocal I wanted to make sure the original melody was intact, so I immediately called longtime friend Ronnie Bowman. This song was a one taker with the band it just seem to flow out effortlessly. So in a way old seeds planted still grow and I'm sure glad they did. I do believe we all did it justice with a slight twist and I bet old Jack is smiling."
– Billy Droze
"Columbus Stockade Blues" first made famous by the founding father of Bluegrass himself Mr. Bill Monroe but was written and recorded way back in the early 1920's. Columbus Stockade was an actual place, a well-known jail and police station since as far back as the 1850's. The song speaks about a man who was incarcerated at the facility thinking of his love back home in Tennessee and knows if he ever made it out of prison it would only be in his dreams.
Click here to hear "Columbus Stockade Blues". The single is available for DJ downloads on AirPlay Direct and included on the new Radio CD, Fresh Cuts & Key Tracks, No. 2 – 2016 available to D.J.'s now.
Born in Lafayette, Louisiana, the 10th of 12 children, Billy Ryan Droze grew up in Alabama knowing that music was his life as far back as he can remember. "It's as if I was inserted with a computer chip that made my life revolve around music." But the reason is just as likely the influence of his father, Bob "Red" Droze, a dedicated country, gospel, and bluegrass musician, who in 1962 released an album on Rural Rhythm Records making father and son label mates.
Billy was on stage with his dad by the time he was 4 years old, and spent his childhood singing with him everywhere from churches to bluegrass festivals to honky-tonks, developing a passion for traditional country, gospel, and roots music that has influenced him ever since.
He learned to play guitar when he was 12, and as a teenager would perform anywhere, anytime, for anyone who would listen, sometimes walking miles down country roads, carrying his guitar, just for the chance to play a few songs.
By the time he was 16, Billy's dad had moved on to Texas, so he followed him there and spent a year or so playing with his band. Then after rambling around Texas for a while, he decided it was time to move to Nashville, where he's lived ever since. Continuing to play anywhere he could, and constantly honing his skills as a song smith and musician, Billy's ever-growing fan base, dramatically increased after several tours, opening for and singing lead for the Grammy-winning group Shenandoah (under the aka. name of Billy Ryan).
Billy Droze has been touring worldwide and making music non-stop for more than a decade. This truly unique artist and hit songwriter, has lyrics that dig deep into the heart of life, melodies and a guitar style that combine his traditional roots with a modern twist that's all his own, and a voice so soulful, earthy and sincere that every song seems to draw you in to believe and enjoy his brand of American Music. More information is at www.billydroze.com [1] or Facebook [2].