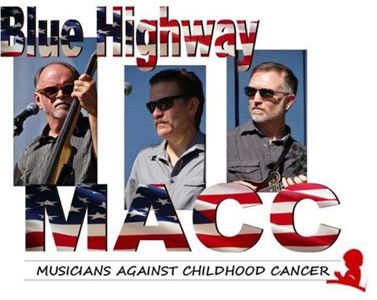 Blue Highway at 32nd Musicians Against Childhood Cancer Festival which will take place July 20 through July 23 outside Columbus, Ohio.! Marty Raybon, Daryle Singletary, and more appearing! Proceeds from this festival will benefit St. Jude Children's Research Hospital in Memphis, Tennessee. Since the year 2000, MACC and you have donated over $875,847.00 to St. Jude and the Y.M.C.A., helping children around the world. This year will be the 16th Year for Musicians Against Childhood Cancer.
Besides those artists already mentioned, this year will again host some of the best in bluegrass with artists including Feller & Hill, Tennessee Mafia Jug Band, David Pramley & Cardinal Tradition, The SteelDrivers, Boxcars, Seldom Scene, Larry Cordle & Lonesome Standard Time, Doyle Lawson & Quicksilver, Michael Cleveland & Flamekeeper, Junior Sisk & Ramblers Choice, Dave Adkins Band, Alan Bibey & Grasstowne, Flatt Lonesome, Band of Ruhks, Terry Baucom & Duykes of Drive, Rob Ickes & Trey Hensley, many others.
Blue Highway has earned 25 collective IBMA Awards, 6 SPBGMA Awards, one Dove Award, and two Grammy nominations as a band, plus two Grammy Awards among its current members. Blue Highway was voted the Favorite Bluegrass Artist of All Time by the readers of Bluegrass Today in April 2016. Tim Stafford received honors as 2014 IBMA Songwriter of the Year and 2015 SPBGMA Guitar Player of the Year. Shawn Lane was nominated as 2015 IBMA Songwriter of the Year, while Gaven Largent was recently nominated as 2016 SPBGMA Dobro Player of the Year. Blue Highway charted the Most Radio Airplay of any Bluegrass Artist in 2014, per the 2014 Bluegrass Radio Airplay Chart, storming national airplay charts with their heralded album The Game.
As many of our readers know, the producers Darrel & Phyllis Adkins have been promoting high quality concerts and festivals since 1980. These concerts formerly held at Frontier Ranch, and more recently Hoover Y-Park in Columbus, Ohio have drawn thousands of fans from all over the world. We plan to continue the tradition of quality family entertainment but with one major change, the proceeds will benefit St. Jude Children's Research Hospital in Memphis, Tennessee.
If you cannot attend and wish to make a donation, please make checks payable to:
Musicians Against Childhood Cancer®
1434 S. 3B's & K Rd.
Galena, OH 43021
Since the year 2000, MACC and you have donated nearly one million dollars to St. Jude and the Y.M.C.A., helping children around the world. This year will be the 17th Year for the Musicians Against Childhood Cancer benefit festival. For more information, please visit www.MusiciansAgainstChildhoodCancer.com [1]