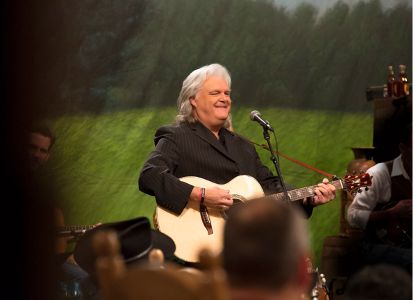 Nashville, TN -- Eleven-time IBMA award winner Ricky Skaggs and his band Kentucky Thunder have been added to the Friday night lineup of the PNC presents Wide Open Bluegrass Festival, Friday, September 30. Additionally, Alice Gerrard will join previously announced Laurie Lewis & The Right Hands as a special guest Friday night and Symphony of the Mountains joins previously announced Kruger Brothers on Saturday, October 1. All performances take place at the Red Hat Amphitheater in Raleigh, North Carolina. The festival is part of IBMA's World of Bluegrass events, which begin at the Raleigh Convention Center Tuesday, September 27.
Wide Open Bluegrass is an urban bluegrass event that includes both ticketed main stage performances at Red Hat Amphitheater and free stages. A portion of proceeds from Red Hat Amphitheater ticket sales go to the IBMA-operated Bluegrass Trust Fund, a non-profit organization that provides financial assistance to individuals in the bluegrass music community in times of emergency need.
In addition to his IBMA honors, over the course of his 40-plus-year career Ricky Skaggs has won 14 GRAMMYS, eight CMA awards, nine ACM awards, two Dove awards and has received three honorary doctorate degrees. Skaggs has had 12 No. 1 singles on the Billboard country charts and 12 Top 20 country albums. In 2013, the Grand Ole Opry member released his first-ever autobiography, "Kentucky Traveler: My Life in Music." It details his life and times and provides a descriptive history of bluegrass and country music, as told by the master himself.
Alice Gerrard is a talent of legendary status with a career spanning 50 years. In bluegrass circles, she is best known for her groundbreaking collaboration with Appalachian singer Hazel Dickens in the '60s and '70s. The duo influenced scores of young female singers, including The Judds, who have acknowledged Hazel and Alice as early inspirations. A tireless advocate of traditional music, Gerrard received a GRAMMY nomination for her most recent release, Follow the Music. She will join Laurie Lewis & The Right Hands on Saturday evening to share music from their album The Hazel and Alice Sessions, which was released earlier this year.
Fourteen members of the professional Tennessee-based orchestra Symphony of the Mountains will perform "Spirit of the Rockies," a classical piece composed by Kruger Brothers' Jens Kruger that is a spiraling tale of ghosts, relationships and guides both seen and unseen. Upon being commissioned to write the work for the Banff Centre in Alberta, Canada, Jens explored the Canadian Rockies and found a spiritual connection to the music he grew up listening to in his native Switzerland. The piece was written for a small orchestral ensemble similar in size to one that might have played at the Banff Springs hotel around the turn of the century.
The Wide Open Bluegrass Red Hat Amphitheater line-up:
Friday, September 30

Dailey & Vincent. Multiple IBMA Award winners and Grammy nominees Dailey & Vincent perform their entertaining mix of bluegrass, country and gospel music.
Jerry Douglas presents Earls of Leicester. Dobro master Jerry Douglas and his bluegrass supergroup the Earls of Leicester return as the 2015 IBMA Entertainers of the Year, ready to share material from their upcoming release on Rounder Records, Rattle and Roll.
Laurie Lewis & the Right Hands. Two-time IBMA Female Vocalist of the Year, Lewis is one of the leading singers and songwriters in bluegrass music today. She will be joined by special guest – GRAMMY-nominated Alice Gerrard, a traditionalist who's enjoyed an illustrious career spanning 50 years.
Marty Stuart & His Fabulous Superlatives. Five-time Grammy winning multi-instrumentalist, singer and songwriter Marty Stuart explores the crossroads of bluegrass and traditional country.
Nitty Gritty Dirt Band. As part of their 50th anniversary tour, the iconic and profoundly influential Nitty Gritty Dirt Band, often cited as a catalyst for an entire movement in country, rock and American roots music, will draw from their legendary catalog of hit songs. Their groundbreaking 1972 Will The Circle Be Unbroken album has been inducted into the U.S. Library of Congress and the Grammy Hall of Fame. Special guests to be announced later.
Peter Rowan Band. Rowan's storied career in bluegrass music spans more than five decades, from his early years with Bill Monroe's Blue Grass Boys to his time in Old in the Way with Jerry Garcia to fronting his own bluegrass band.
Ricky Skaggs & Kentucky Thunder. The Grand Ole Opry member and recipient of nearly every musical honor is also a published author.
Soggy Bottom Boys. For fans of the blockbuster film O Brother, Where Art Thou? and its Grammy-winning soundtrack hit "Man of Constant Sorrow," the Soggy Bottom Boys unite for a rare live performance. The band features Dan Tyminski (singing voice for actor George Clooney), Barry Bales and Ron Block of Alison Krauss & Union Station; and Pat Enright, Mike Compton, and Stuart Duncan of the Nashville Bluegrass Band.

Saturday, October 1

Becky Buller Band. Current IBMA Songwriter of the Year and Emerging Artist of the Year, Becky Buller is quickly rising among the ranks of bluegrass music's premier singers and songwriters.
Greensky Bluegrass. Highlighting the genre's progressive side, Greensky Bluegrass explores the creative space between tradition and innovation, formula and improvisation, and bluegrass and rock sensibilities.
John Cowan with Darin & Brooke Aldridge. Newgrass music pioneer and Doobie Brother John Cowan teams up with North Carolina's own bluegrass duo Darin & Brooke Aldridge for a special set, with other guests to be announced.
Larry Sparks & The Lonesome Ramblers. Larry Sparks is IBMA's newest inductee into its Bluegrass Hall of Fame, with 50+ years in the industry.
Russell Moore & IIIrd Tyme Out. Celebrating 25 years with a chart topping album It's About Tyme. Moore is the IBMA's most awarded Male Vocalist of the Year (5-time career).
Steep Canyon Rangers. Grammy-winning Steep Canyon Rangers are enjoying the success of their ninth studio album, RADIO, a project that further illustrates the band's dynamic songwriting, instrumental virtuosity and high-energy performance. Recorded at Asheville, NC's Echo Mountain Recording Studio, RADIO was produced by Jerry Douglas.
The Del McCoury Band. A true American icon and most awarded band in the history of bluegrass.
The Kruger Brothers. Fan favorites and acoustic music innovators The Kruger Brothers are cooking up a very special program for the festival including a performance of the classical piece, "Spirit of the Rockies" with members of the Symphony of the Mountains.
Single-day general admission tickets for performances at Red Hat Amphitheater during Wide Open Bluegrass start as low as $60 for the general public and $50 for IBMA members. Additional details and pricing information - including member discounts – for Red Hat Amphitheater performances, Bluegrass Ramble Showcase passes, IBMA Business Conference registration, IBMA Awards Show tickets and hotel reservations are available at IBMA's website, ibma.org. Tickets for all events are on sale now and may be purchased at www.ibma.org [1] or by calling 1-800-514-3849.
IBMA is the professional trade organization for the global bluegrass music community. The organization's six-year stay in Raleigh is the result of a partnership with The Greater Raleigh Convention and Visitors Bureau, the Raleigh Convention Center, PineCone (The Piedmont Council of Traditional Music), the City of Raleigh, and a local organizing committee. For more information: www.ibma.org [1].