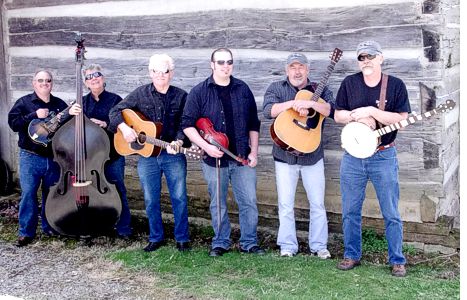 Galax, VA -- Concertgoers are in for an old-time dance party when regional favorites the Crooked Road Ramblers and Mountain Park Old Time Band perform at 7 p.m., Saturday, June 25, at the Blue Ridge Music Center, milepost 213 on the Blue Ridge Parkway.
Hailing from Southwest Virginia, the Crooked Road Ramblers are steeped in the traditional music of the Blue Ridge. They have played at the Carter Family Fold, Wayne Henderson Festival, HoustonFest, and many venues across Virginia and North Carolina. They claimed first place in the old-time band category at the Ashe County, Alleghany County, Fries, and Union Grove fiddlers conventions in addition to second place at the Galax Old Fiddler's Convention.
Mountain Park Old Time Band is known for its dance music, whether it be square dance, flat foot, clogging, two step, or waltz. The band has played the Bristol Rhythm and Roots Reunion and Song of the Mountains at the Lincoln Theater in Marion, Virginia. The group performs at the Carter Family Fold several times a year and at the Alleghany Jubilee each month. They have been featured on NPR's All Things Considered and opened for Blue Highway, Carolina Chocolate Drops, Mike Snider, and Steep Canyon Rangers. The group has also played at MerleFest and HoustonFest.
During the concert, The Galax Smokehouse will be on site serving its signature barbecue, down-home sides, drinks, and dessert.
Crooked Road Ramblers + Mountain Park Old-Time Band take to the stage Saturday, June 25, at 7 pm at the Blue Ridge Music Center, 700 Foothills Road, Galax, VA, or Milepost 213 on the Blue Ridge Parkway. Cost is just $10 and tickets are available at BlueRidgeMusicCenter.org or by calling (866) 308-2773, ext. 245. Season passes are also available online or by phone.
The Blue Ridge Music Center, milepost 213 near Galax, Virginia, celebrates the music and musicians of the Blue Ridge Mountains. The site includes an outdoor amphitheater and indoor interpretive center used to highlight an important strand of American musical culture, which still thrives in the region. Midday Mountain Music performances are offered free from noon to 4 p.m. daily. In the summer, its beautiful outdoor amphitheater at the foot of Fisher Peak comes alive through a vibrant and diverse concert series. The Music Center also offers scenic trails for the novice and seasoned hiker, educational programs, and the interactive Roots of American Music Museum. The visitor center and museum are open May through October and admission is free. The site is operated through a partnership between the National Park Service and Blue Ridge Parkway Foundation. For more information, visit BlueRidgeMusicCenter.org.