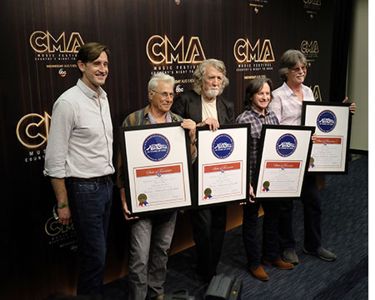 Nashville, TN -- In Celebration of The Nitty Gritty Dirt Band's 50th anniversary, the Tennessee Department of Tourist Development honored bandmates Jeff Hanna, Jimmie Fadden, Bob Carpenter and John McEuen with special commemorative art pieces that included official Tennessee Ambassador of Goodwill certificates signed by Gov. Bill Haslam. The special presentation took place at Nissan Stadium during CMA Fest, just prior to the band's debut performance at the stadium. Brian Wagner, assistant commissioner of marketing, Department of Tourist Development, made the presentation to each member of the world-renowned group.
"We are incredibly proud of the impact that the Nitty Gritty Dirt Band has had on the musical heritage of Tennessee," said Wagner. "Our brand message notes The Soundtrack of America. Made in Tennessee. Over the past fifty years, the works created by these musicians, in collaboration with legendary country music artists, have served as a touchstone for so many new fans to the genre not just in the United States, but around the world."
Matted and framed along with the certificates signed by Gov. Bill Haslam was a custom-designed piece of artwork. Text creating a circle border to the design read, "The Unbroken Circle. Part of the Soundtrack of America. Made in Tennessee. June 11, 2016." Incorporated into the center of the design was the band's 50th anniversary logo which states, "Nitty Gritty Dirt Band: 50 Years of Dirt."
This is not the first acknowledgement Tennessee Tourism has shown for the group, as the department recently supported the group's star-studded televised PBS Pledge Special, a project that has reached more than 267 million viewers across the country. The show, filmed at the historic Ryman Auditorium, features guest artists including John Prine, Sam Bush, Vince Gill, Jerry Jeff Walker, Alison Krauss, Rodney Crowell, Byron House, and Jerry Douglas as well as former members, Jimmy Ibbotson (long-time member for decades) and Rock and Roll Hall of Famer and early NGDB member Jackson Browne.
The Nitty Gritty Dirt Band has a full slate of dates commemorating the 50th milestone to run through the end of 2017, with many additional dates to be announced. Plans are extensive with select shows featuring special guests as well as many new exciting show elements.
For more information, visit www.NittyGritty.com [1] or follow them on Facebook, Twitter and YouTube.