Wise County, VA -- A new song about Southwest Virginia, by emerging singer/songwriter Kaitlyn Baker, has been tapped as the official theme song for tourism in the region. Baker, who is from Wise County, Virginia, wrote "Heart of Appalachia" with longtime collaborator Scott Arnold.
She then enlisted the help of bluegrass and country legend Larry Cordle to co-produce the record and sing background vocals. Arnold produced the music track, which was later turned over to Cordle, who took Baker into The Gorilla's Nest Studio near Nashville to record vocals.
"Larry offered ideas to improve how I sang certain phrases, and he had great ideas for harmonies," Baker said. "He was so easy to work with. I was a little nervous at first, but he put me right at ease."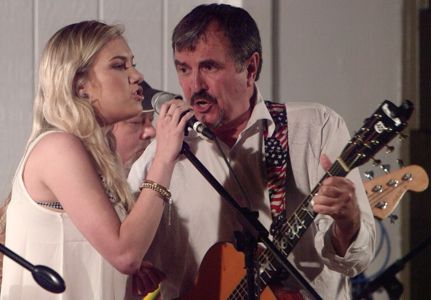 Joining on harmonies is Val Storey, a native of Roanoke, Virginia, who is a much sought-after session singer in Nashville.
An accompanying music video features cameo appearances by Larry Cordle and Ralph Stanley II, along with mandolin player Stanley Efaw and banjo player Alex Leach. (They appear in the video, but not on the record.) The video can be seen at www.HeartOfAppalachia.com [1] and below.
Baker donated the song on a non-exclusive basis to the Heart of Appalachia Tourism Authority, a nonprofit organization that promotes tourism in the Coalfield Region of Southwest Virginia, which has taken an economic hit because of job losses in the coal industry.
"I hope 'Heart of Appalachia' will encourage more tourism, which could help the local economy," Baker said. "This area has spectacular scenery, and there's so much to do here."
"The roots of bluegrass and country music run deep in the mountains of the Heart of Appalachia Region," said Kitty Barker, executive director of the Heart of Appalachia Tourism Authority. "Kaitlyn Baker is an example of the talent that is born and raised in these rugged mountains of Virginia. Her talent is a blessing to the region, and her generosity to give back to her home area is admirable."
"Heart of Appalachia" is available on iTunes and Amazon. Information about Kaitlyn Baker is available at www.KaitlynBaker.com [2].