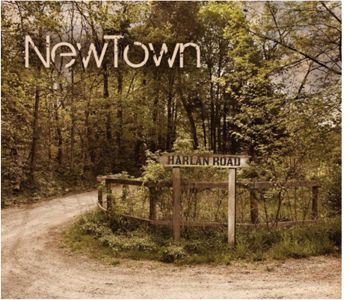 Nashville, TN -- NewTown's "Harlan Road" premiered earlier this week. The title track of the group's newest CD, due in stores July 8, "Harlan Road" is available for free download to fans who pre-order the
Harlan Road
CD from
iTunes
. Produced by multi-Grammy Award winner Barry Bales, the 11-track outing is on the Mountain Home Music Company label. Footage of the recording can be seen below.
The Lexington-based band is fronted by award-winning fiddler Kati Penn and her husband, Jr. Williams, a respected banjo player. It is Williams who takes the vocal spotlight on "Harlan Road," and he credits friend and popular songwriter CJ Cain for introducing the band to Childers' music. "He's like a cult hero -- his music is everywhere," Williams remarks. "We listened to a lot of his songs, but when I heard this one, I knew it was for us."
"Harlan Road" simmers with a sensuous heat:
I'd run to her thru tobacco fields and over across the clover
I'd wade a mile of briar patch boys just to touch her skin
And I know that I'm the foolish kind to beckon to her callin'
but I can't seem to help myself and let that woman win
And if she wants one night then that'll be just fine
  - Tyler Childers
Founded in 2009, the Lexington, Kentucky-based NewTown made the national spotlight with the 2013 album, TIME MACHINE, and the #1 Bluegrass Today single, "All I Was to You." The group has gained a strong following playing festivals throughout the U.S., and sharing bills with Rhonda Vincent & The Rage, Doyle Lawson & Quicksilver, John Cowan Band and more. The group has appeared several times at the legendary Station Inn in Nashville, and twice performed at IBMA World of Bluegrass showcases in Raleigh, North Carolina. In addition to Penn and Williams, Travis Anderson (bass), Mitchell Cannon (mandolin) and Hayes Griffin (guitar) round out the band. Between them, they bring Jazz, Bluegrass and Contemporary disciplines to the music, completing the diverse and textured sound that is NewTown.
The new music is resonating with fans, and NewTown will be on the road much of the summer. Upcoming tour dates include:
June 15 / Uncle Penn Days @ Bill Monroe Music Park / Bean Blossom, IN
June 24 / RudyFest / Grayson, KY
June 25 / Junegrass / Grand Rapids, MI
June 27 / The Southland Jamboree / Lexington, KY
July 9 / Busy Bird Bluegrass Festival / Berkshire, NY
July 29 / The Station Inn / Nashville, TN
July 30 / Willies Locally Known / Lexington, KY>