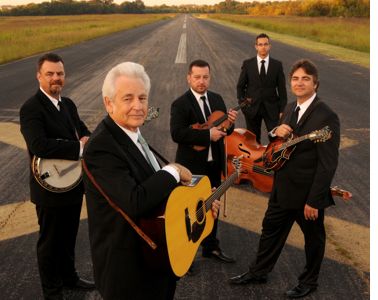 Baltimore, MD -- The Susan Cohan Colon Cancer Foundation, Inc. ("Susie's Cause") is honored to present The Del McCoury Band, featuring legendary bluegrass superstar Del McCoury, at its Bluegrass-Folk Festival on Saturday, July 30, 2016 at Oregon Ridge Park in Cockeysville, Maryland. This second annual event will also feature rising star singer-songwriter Sarah Jarosz, old-time bluegrass stalwarts The Seldom Scene, Mipso, The Stray Birds, Tim and Savannah Finch with the Eastman String Band, and the Ken and Brad Kolodner Quartet. All festival proceeds benefit Susie's Cause, the Baltimore-based national nonprofit foundation dedicated to colon cancer prevention, treatment, and support services.
Gates for the rain-or-shine festival open at 11 a.m., with music starting at noon and continuing until 10 p.m. General admission tickets are $55 in advance and $65 on the day of the festival, including those purchased at the gate. Premier tickets are $155 and include parking, preferred seating, catered lunch and dinner, and free access to a tasting tent sponsored by the Maryland Distillers Guild, featuring the best in locally distilled whiskeys, bourbons, ryes, and other spirits. One parking pass per car is required to park at the event. Parking passes for non-premier ticket holders are available in advance for $10 and will be sold at the festival for $15. Children ages 10 and under will be admitted free to the festival with a paying adult. Tickets and parking passes can be purchased online, at www.coloncancerfoundation.tix.com [1].
Born in York, Pennsylvania, bluegrass legend Del McCoury cut his teeth as a young musician playing Baltimore honky-tonks in the late 1950s. In the intervening half-century, he has cemented his place as a giant of the genre, winning two Grammy Awards for the year's best bluegrass album, most recently in 2014 for The Streets of Baltimore. His band's latest album, Del and Woody, released on April 15, is a collection of songs featuring unearthed Woody Guthrie lyrics that McCoury set to music. Guthrie's daughter Nora sought out McCoury specifically to finish and bring to life these unfinished songs of her iconic folksinger father.
Gifted multi-instrumentalist Sarah Jarosz has been hailed by The New York Times as "one of acoustic music's most promising young talents: a singer-songwriter and mandolin and banjo prodigy with the taste and poise to strike that rare balance of commercial and critical success." Only 25 years old, the precocious, folksy Texan has three Grammy Award nominations to her credit. Her fourth album, Undercurrent, is scheduled for release on June 17.
With the retirement of Ben Eldridge earlier this year, The Seldom Scene may have lost their last remaining original member, but the addition to the lineup of banjo player and virtuoso fiddler Rickie Simpkins—brother of longtime Scene bassist Ronnie Simpkins—means the future remains bright as ever for this Grammy Award-nominated quintet, which originally formed in 1971, out of informal jam sessions held in the basement of Eldridge's Bethesda, Maryland home.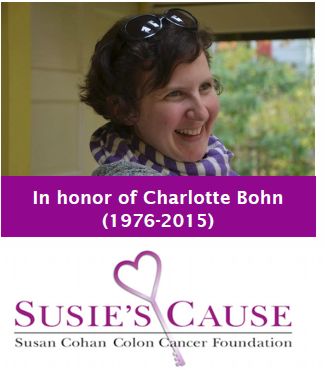 The Susie's Cause Bluegrass-Folk Festival is held in loving memory of Charlotte Bohn, a lifelong Baltimore resident and classically trained singer and performer who had a passion for bluegrass music. "Charlotte was a Susie's Cause board member who sadly lost her battle to colorectal cancer in early 2015 at age 38, leaving behind two small children and a loving family," said Susie's Cause founder and president David Rodman Cohan.
Festival attendees should bring a lawn chair or blanket to relax and enjoy this spectacular summer day of great bluegrass and folk music. Food, including open-pit BBQ, beer, and other adult beverages will be available for purchase. Outside food and beverages are prohibited, with the exception of three unopened bottles of water per person and baby food and snacks.
About Susie's Cause: The Susan Cohan Colon Cancer Foundation, Inc. ("Susie's Cause") has broken the silence about colorectal cancer and worked tirelessly to establish itself as the national grassroots voice championing the critical importance of early screening and detection, healthy living, and aggressive therapeutic intervention in preventing and treating this disease. Also dedicated to funding critical research, Susie's Cause has raised and donated over $500,000 to the Sidney Kimmel Comprehensive Cancer Center at Johns Hopkins. This year, Susie's Cause is taking its signature Outreach Health Festival to 10 cities across the United States, including Indianapolis, Los Angeles, and New York. A free day of overall health education, with a particular focus on colon cancer screening and prevention, these festivals are specifically designed to engage under-served communities, in which colon cancer diagnoses and deaths occur at an alarmingly high rate. Founded in 2005 and headquartered in Baltimore, Susie's Cause, a 501(c)(3) charity, currently has affiliates in California and North Carolina, with plans for further expansion. To learn more, go online to www.coloncancerfoundation.org [2], or call 410-244-1778.