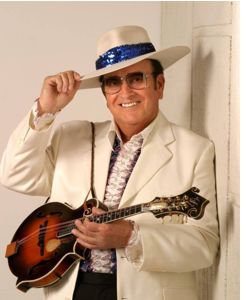 Nashville, TN -- Legendary Opry star and bluegrass pioneer Bobby Osborne announced via Facebook that he is launching a crowd funding campaign with PledgeMusic [1] this month to record a new album. At the age of 84, Bobby is one of very few of his generation to embrace a crowd funding format, but Bobby says, "It reminds me of the fan clubs we used to have when we started. Fans are why we make the music, and I've always tried to interact with fans and listeners whenever I can."
In Bobby's case, this approach will allow an impassioned collaboration of fans, students, the Compass Records label and the Freshgrass Foundation to support this historic recording. The album will be produced by Alison Brown (Grammy winning composer/instrumentalist, 2015 IBMA Distinguished Achievement Award winner, and co-founder of Compass Records) and recorded at Compass Sound Studios in Nashville, TN. Pledges to the campaign will be matched by a grant from the Freshgrass Foundation.
Bobby carries on the bluegrass legacy, his one-of-a-kind, high lonesome tenor vocals as strong as ever, and plays the tradition forward in his role on the faculty at the Kentucky School of Bluegrass and Traditional Music in his home town of Hyden, Kentucky. Former student Lindsey Branson, had this to say about having the opportunity to study with the bluegrass master, "It has meant the world to me getting to learn from Bobby Osborne. I was really nervous and scared the first time I had class with him but, after that day, I looked forward to each one. Bobby has taught me a lot… not only musically but he's taught me about life. He's become a big inspiration for me and has made me strive to become a better mandolin player. I could never thank him enough for everything he's done for me this past year!"
Bobby's students' passion for mandolin playing and bluegrass have made a huge impression on him. "My students continue to inspire me everyday. Their support and encouragement for this recording has been a blessing. It also gives me the enthusiasm to make the best record of my career."
The Freshgrass Foundation's, Chris Wadsworth says, "As a foundation, we want to help with the creative process and galvanize the fan base that appreciates the music as much as we do. Crowd funding is the best model for doing that. It also allows the artist to make the fan part of the creative process and cultivates a healthy economy around it which is needed for this genre."
Benji Rogers the Founder & Chief Strategy Officer of PledgeMusic is "thrilled that Bobby has embraced the Pledge platform like so many other artists who recognize its reach and effectiveness. To have a legend like Bobby embrace both the technology and the concept of crowd funding is exciting for us and we hope that it draws even more of his existing supporters into the digital realm while exposing his music and legacy to a whole new group of fans."
Producer Alison Brown adds: "One of the things that the bluegrass community does really well is to honor its elders. Bobby Osborne played a pivotal role in shaping the genre in its early days both through the classic songs he brought to the music like "Rocky Top" as well as through the spirit of creativity and innovation that characterized the Osborne Brothers' sound. Although he's in his 7th decade as a recording artist, Bobby still has a lot to say musically. I'm delighted to be a part of an effort that will expand his recorded catalog and bring some new Bobby Osborne music to his fans."
PledgeMusic has become the premier crowd funding platform for the music industry, used by established and emerging artists alike, to facilitate the recording process and offer fans unprecedented access to the artist, his process, and limited edition memorabilia in exchange for their support.
Bobby's Osborne's PledgeMusic Campaign will run for 60 days at www.pledgemusic.com/bobbyosborne [1].
Recording will begin late summer and release date is slated for early 2017 on Compass Records.