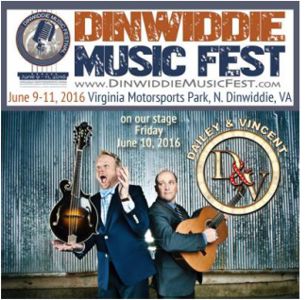 Dinwiddie, VA -- After a very successful Inaugural Festival in 2015 we are very excited for our 2nd Annual Dinwiddie Music Festival here at Virginia Motorsports Park in North Dinwiddie, Virginia June 9, 10, & 11, 2016. The festival will feature some of the best in Bluegrass, Class Country, and Americana Music. Headliner bands like Dailey & Vincent, Grammy Award Winning SteelDrivers, Larry Cordle & Lonesome Standard Time, Joe Mullins & Radio Ramblers, Flatt Lonesome, Junior Sisk and many more.
Great Music, Food, Vendors, Camping & Fun for the entire Family! There will also be Jamming all over the festival grounds with one particular area being the BonFire Jamming area. What an awesome deal being amongst friends around a BonFire and either jamming or listening. There will be a host band for the BonFire each night. One of those host bands that will entertain and get the jamming started will be Davis Bradley.
Other Artists performing on stage will be America's Got Talent finalist, Mountain Faith, Darrell Webb Band, Donna Ulisse & Poor Mountain Boys, The Larry Stephenson Band, Sideline, Bluegrass Brothers, Malpass Brothers, Commonwealth Bluegrass Band, Hwy 249, Mill Run, & Code Blue. Each band is comprised of world class professional musicians. Donna Ulisse will be doing a song writing workshop on Friday morning and The Larry Stephenson Band will be doing Mandolin, Banjo, Bass, and Guitar workshops Saturday morning.
This festival is rated one of the best festivals for Bluegrass and Americana Music on the East Coast. Join other music lovers for the 2nd Annual Dinwiddie Music Festival held at the Virginia Motorsports Park at 8018 Boydton Plank Road in North Dinwiddie, VA 23803. The festival is located only 25 miles south of Richmond, VA. There will be campground pickin' & jammin' and more! Advance Discounted tickets are available until June 1st. After June 1st all tickets will be the at Gate price. For Advance discounted tickets click on this link https://www.eventbrite.com/e/dinwiddie-music-festival-2016-tickets-19918... [1] or go to www.DinwiddieMusicFest.com [2].