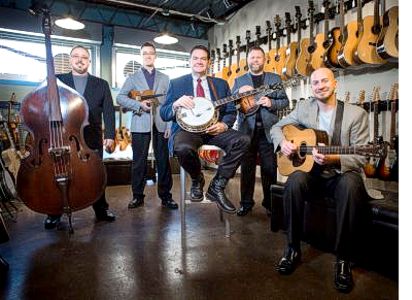 Joe Mullins & the Radio Ramblers are celebrating their 10 Year Anniversary this year. The band commented, "We're excited to be celebrating our 10th Anniversary this year! It seems like this past decade has flown by and we are so grateful for all the friends and fans we've made along the way!! Thanks to each and every one of you for all of the support you have given us, all the miles you've traveled to see us, and all the love you've shown! Our hope is that we've returned it 10-fold!"
The band celebrated their first decade with an Anniversary Concert on Monday, May 16th. Hundreds of friends and fans packed the place, making for a SOLD-OUT show! They exclaimed, "We had a ball with all of you!!"
Joe Mullins & The Radio Ramblers have an energetic mix of quality Bluegrass and Gospel music, a professional presentation, inventive instrumental work, a wide variety of vocal arrangements including a capella quartets and tasteful, down-home humor. Their professionalism and successful, heavily played recordings have kept them in demand with a national audience. JMRR have been seen by thousands of fans across the country at nearly every national bluegrass event.
A contributing factor to their success is their active marketing capabilities, due to Mullins' network of radio stations in the Midwest, including a 24/7 webcast available at myclassiccountry.com or the new "Classic Country Radio" app for Android and iPhone.
It's only fitting that they kick off their 10th Anniversary with something we've never done before - a European Tour! They will be spending five days covering the United Kingdom and Switzerland and plan to take in as much of the scenery and chocolate as possible! If you happen to be one of their International friends, make plans to come see us at one of these shows:
May 19 at 7:45 PM - Old Portsmouth, Hampshire, UK - Square Roots Productions - SOLD-OUT!
May 20 - Zweildlen, Switzerland - American Folk Club Rocking Chair
May 21 - Willisau, Switzerland - Spring Bluegrass Festival
May 22 - Liestal, Switzerland - Kulturhotel Guggenheim