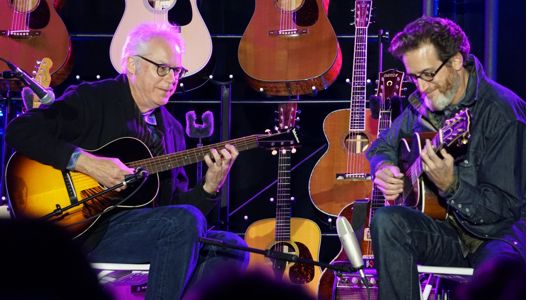 The Fretboard Summit 2016 takes place in San Diego on October 14-16. It's quickly shaping up to be another fantastic gathering. Throughout the weekend, we'll hear from some of our magazine's favorite performers, builders and subjects. As before, the Fretboard Journal will be gathering videos, lectures and podcasts for our website and magazine but there's nothing like experiencing this annual gathering in person. The first round of speakers and performers for the 2016 Fretboard Summit, taking place October 14-16 at the Rancho Bernardo Inn in San Diego, California, has now been released.
Artists and Speakers
As it gets closer, the lineup of the Summit will continue to grow. Some of the artists we've already confirmed for 2016 include Laurence Juber, David Crosby, Bob Minner, Matt Munisteri, Courtney Hartman, Anthony Wilson and Dori Freeman. As with last year, we're aiming for a diverse lineup of artists from all genres with plenty of time for collaborations and suprises.
During the day, we'll hear in-depth talks, interviews and panels from a variety of authorities, including acclaimed luthier TJ Thompson, Dick Boak of Martin Guitars, Tim Luranc and Andy Powers of Taylor Guitars, Bill Collings, Rick Turner, Dana Bourgeois, luthier Howard Klepper and many others.
Last year's Summit brought out some of the most beautiful vintage guitars we've ever seen. So this year we'll also have an on-site Vintage Vault where you can hear about (and try) an incredible array of classic pre-war instruments, hang out and horse trade with fellow vintage nuts and hear from some of the best restorers, luthiers and dealers in the business. Yes, there will also be some select instruments for sale, too.
Our focus throughout is on performances, talks and information you won't find anywhere else.
Interactive Installations
Martin Guitars

C.F. Martin & Co. will bring a number of one-of-a-kind experiences and opportunities to the Summit this year, including: A showcase of historic dreadnoughts, a screening of "The Ballad of the Martin Dreadnought" and the Martin Guitar Open Mic (complete with a chance to win a Martin Mini!). Dick Boak will be at the Summit throughout the weekend to talk all things Martin.


Santa Cruz Guitar Co.

Every attendee at the Fretboard Summit is entered to win a custom built Santa Cruz Guitar. Join Richard Hoover himself at the Santa Cruz Guitar Factory to design your new instrument valued at $10,000. Santa Cruz Guitars will also bring back their popular Guitar Doctor Booth, taking a look at your guitars, offering free tune-ups, string changes and more.


Deering Banjos

Every attendee is entered to win a Deering Calico banjo, valued at over $3000. Representatives from Deering (located just down the highway from the Summit in Spring Valley, California) will also be on-hand to talk banjos with attendees.


Bourgeios Guitars

Dana Bourgeois' voicing workshop was a highlight of the 2015 Fretboard Summit. Dana will return once again for another hands-on workshop for the 2016 Fretboard Summit. You may get some sawdust on your clothes, but you'll definitely learn about guitar construction and tone.


Peghead Nation

Peghead Nation will once again be offering continuous guitar instruction and master classes throughout the Fretboard Summit. Attend as many as you like at no extra charge.


American Music Furniture

All of this entertainment is bound to make you thirsty. American Music Furniture will host special beer tasting event where you can check out some of San Diego's finest brews.

We'll be announcing numerous additions more between now and October but sign up soon if you'd like to reserve your ticket and hotel room while they're still available. Space is limited. Learn more about the Fretboard Summit [1].