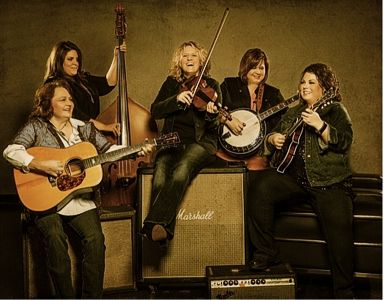 Pinecastle Records has signed bluegrass group Sister Sadie, and released the group's first single, "Unholy Water," from their upcoming self-titled album. The group will be at The Station Inn in Nashville for an album preview performance on May 13.
Sister Sadie is an all-female bluegrass group comprised of some of the best-known women in bluegrass – Dale Ann Bradley, Tina Adair, Deanie Richardson, Gene Britt and Beth Lawrence. The group is a result of the women getting together for a fun evening at Nashville's Station Inn that turned into a discussion about doing more shows and recording.
The group is already creating a buzz among the music community. Their harmonies and expert musicianship put them in a special class of artists, and fellow artists and press alike are already praising their sound and artistry.
Alison Krauss says, "Sister Sadie is an inspiring musical collaboration bringing together some of the best women bluegrass music has ever claimed."
"This will be one of the most highly-anticipated new recordings in recent years. Seems like a can't miss," says John Lawless of "Bluegrass Today."
Together, group members have led their own groups, played with folks like Bob Seger, The Chieftans, Vince Gill, Alan Bibey & Grasstowne, and are respected vocalists and musicians throughout the music community.
Members of Sister Sadie:
Dale Ann Bradley - Five time IBMA Female Vocalist of the Year, on vocals and guitar. She tours with her namesake the Dale Ann Bradley Band.
Tina Adair - Talented and soulful vocalist and mandolinist who has been a female vocalist nominee and fronted her own touring band the Tina Adair Band for over 20 years.
Deanie Richardson - Charismatic fiddler who has performed with Bob Seger, The Chieftains, Vince Gill, and Patty Loveless.
Gena Britt - An in demand banjo player known for playing with several critically acclaimed bands over the years. Currently with Alan Bibey & Grasstowne.
Beth Lawrence - A well-known and respected acoustic bass player in demand as a session player. She is also the comedian of the stage show.
The album, "Sister Sadie," will be released in June.
Pinecastle Records was created 25 years ago as a favor to a friend and has since grown into a legendary label with nearly 250 releases in its catalog including titles from some of the most influential musicians in the bluegrass genre such as The Osborne Brothers, Jesse McReynolds, and Charlie Waller & The Country Gentlemen among many more. Pinecastle has always placed an emphasis on fostering the talents of bluegrass up and comers and has helped with the growth of the careers of Terry Eldredge, Jesse Brock, Josh Williams, and Kristin Scott Benson, among others. Pinecastle is committed to finding new and innovative artists as well as working with established names within the industry.