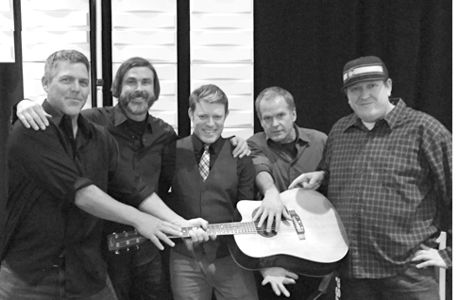 Denver, CO -- Breaking the bluegrass boilerplate, Colorado-based Americana group, Coral Creek, tours the national release of their self-titled album. A well rounded album from start to finish, Coral Creek features some of the most impressive performers in the bluegrass circuit -- including Executive Producer, Tim Carbone, of Railroad Earth.
Centered around the songwriting of Chris Thompson, Bill McKay and Luke Bulla, Coral Creek is an Americana / Newgrass band on the rise, launching a hot new album at the intersection of country-rock, bluegrass and jamband music. Individually gaining notoriety through their involvement with Lyle Lovett, Leftover Salmon, the Allman Brothers family, and The String Cheese Incident, the successful launch of their album marks a new chapter for these three talented songwriters as Coral Creek catches a wave in the swirling jamgrass sea.
The album, Coral Creek, debuted at #3 on the Relix/Jambands.com Radio Chart in December 2015, along with the String Cheese Incident, Widespread Panic and Lettuce. The album is listed atop the Roots Music Report (RMR) Country (#26) and Americana-Country (#14) Charts and Top 100 on the Americana Music Association (AMA) Radio Chart.
With guest appearances that read like a who's who list of improvisational jam music, Coral Creek features a number of guest artists including Andy Thorn (Leftover Salmon), Anders Beck (Greensky Bluegrass), Tyler Grant (Grant Farm), Arthur Lee Land (Great American Taxi), Scott Messersmith (The Motet) and female vocalist Tanya Shylock (The Motet) to name a few.
Coral Creek is a stylistically diverse album that traverses country-rock, bluegrass and jamband music. Each track has a unique story to tell, weaving a mosaic of melodies, jams and lyrics that entice listeners to dance and sing along.
Founding member and principle songwriter, Chris Thompson, has made a name for himself in the Colorado music community as a singer/songwriter, band leader and festival promoter. His bands have toured across the US, Europe and the Caribbean, and through his production company, Coral Creek Music, he is a driving force behind several Colorado music events.
Previously produced by Bill Nershi of the String Cheese Incident, Thompson's guitar work is stylistically blazing new trails inspired by guitar heroes Jerry Garcia and Tony Rice.
Veteran keyboardist Bill McKay, best known for his pivotal role in Leftover Salmon, contributes several original tunes as well as masterful piano and organ solos throughout the album.
Renowned for his energetic style and B3 organ chops, McKay's powerful vocals and piano riffs are pervasive on this album; a tasty reminder of the days when he toured as lead singer with The Derek Trucks Band.
Coral Creek also features Nashville's Grammy Award winning fiddle player and National Fiddle Champion, Luke Bulla. Earning his Grammy Award with Ricky Skaggs & Kentucky Thunder, this dynamic player is also a distinguished vocalist and songwriter.
In addition to his work with Skaggs, Bulla has made a name for himself touring the world with Lyle Lovett as a singer and violinist.
Bulla's live performances have solidified his bluegrass credentials as a past member of the Telluride House Band, playing alongside 'Newgrass' pioneer Sam Bush.
Bulla has toured and recorded with Nashville elite including Jerry Douglas, John Cowan and Lee Ann Womack, and his latest solo album was produced by flattop guitar virtuoso, Bryan Sutton.
While the album sits squarely in the Americana category, Coral Creek live performances transport audiences from the beaches of the Caribbean, down to the bayou and back up high into the Colorado Rockies – with instrumentation ranging from mandolin and fiddle to congas and steel pan.
With an undeniable grassroots buzz building from their successful album release, Coral Creek is in high-demand for the 2016 summer concert and festival season, with appearances scheduled at the prestigious Four Corners Folk Festival, Clear Creek RapidGrass Bluegrass Festival, YarmonyGrass Music Festival and concert series' nationwide.
For more information about Coral Creek or their self-titled national release, check out their official website at http://www.coralcreek.net [1].