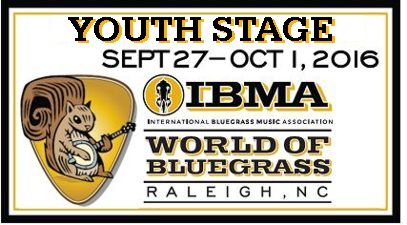 Nashville, TN -- The International Bluegrass Music Association (IBMA) Youth Council is programming a special series of events just for youth at the World of Bluegrass in Raleigh, NC. Youth-centered jams, seminars, workshops, performances, and more will be taking place all week, September 27-October 1, 2016 offering more ways than ever to get involved in bluegrass music! One of the highlights each year is the Youth Stage performances.
The Youth Council hosts the Youth Stage [1] on Friday, September 30 and Saturday, October 1, during the Wide Open Bluegrass Festival. Up to 10 Youth artists will be invitedto participate and perform at the IBMA Youth Stage in 2016. IBMA Youth artists are chosen by the IBMA Youth Council through a juried selection process that takes into consideration the applicant's entertainment value, level of professionalism, potential appeal and quality of work.
Each act must contain at least two (2) members under the age of 18. Applicant does NOT have to be an IBMA member. In addition to general applicant information, the following materials will be needed to complete the application:
Name, email, and role (i.e. banjo, fiddle) of each member of the applying act
One studio recorded song (mp3 format only, an optional second recording may be submitted as well)
One Hi-Res artist photo
An artist bio with artist location, names/roles of band members (if known at time of application), description of the artist's sound, and note of any recently released recordings
A stage plot, indicating locations of instruments, instrument mics, vocal mics, and any other equipment (i.e. amp, pre-amp)
The IBMA provides many opportunities for young bluegrassers to get involved beyond the Youth Stage. The IBMA's Kids on Bluegrass program, Open Youth Room for picking and hanging out all week, Official kickoff party on Wednesday at 5 pm in the Youth Room with food, drinks, and lots of jamming, Seminars, band drop-ins and Chances to hang out, pick, and make friends from around the world! The family oriented bluegrass music always has a place for young artists and fans to get involved. Visit IBMA.org [1] for more information.