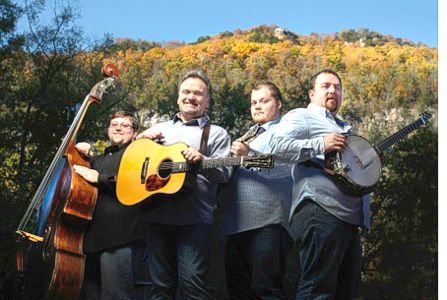 Nashville, TN -- Rural Rhythm Records group Steve Gulley & New Pinnacle has been very busy since the launch of their self-titled debut album in March 2015. The group received standing ovations for both their IBMA and SPBGMA Official Showcase performances and has charted 5 songs from their debut album.
Several weeks back a new chapter in the fast moving story of Steve Gulley & New Pinnacle began with the first single "Aim High" being released which debuts on the Bluegrass Today Weekly Airplay Chart this week at #8. "Aim High", an absolute barnburner was written by award winners Jon Weisberger and Mark Simos and captures the Steve Gulley & New Pinnacle signature sound.
D.J.'s can download "Aim High" now on AirPlay Direct. In addition, the song is available now for digital download on iTunes, Amazon and all other digital sources.
Steve Gulley & New Pinnacle is now in Gulley's studio, The Curve, working on the album titled Aim High and scheduled for release on July 8th.
Steve Gulley, Award-winning Bluegrass songwriter & artist, recently hosted Heartland TV's hit show "Bluegrass Ridge" from March 28th through April 4th. Gulley hosted four episodes of the popular 30-minute program, which airs on Heartland TV. "Bluegrass Ridge" features music videos from bluegrass' biggest acts, along with artist interviews and behind-the scenes content, allowing viewers a rare first-hand look at a genre that's never been hotter.
We're proud that Steve Gulley took time out of his busy schedule to guest host Bluegrass Ridge. Steve is a great ambassador for Bluegrass music and his deep passion for the music and his vocal styling blend for some of the best Bluegrass sound ever heard" says Jeff Moseley Executive Producer. Be sure to watch for Steve on Bluegrass Ridge. Check www.cjmproductions.com [1] for the airing networks listings.
  ~ Jeff Moseley, executive producer – "Bluegrass Ridge" TV Show
"Bluegrass Ridge" airs on The Family Channel, Angel Two (Dish-TV), AMG-TV, Keep It Country TV-UK/Ireland, Country TV (New Zealand) and DTC Cable (check local listings).