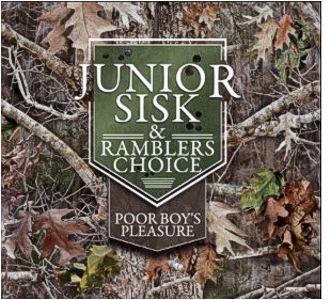 If you know Junior Sisk and his outstanding group Ramblers Choice, then you know there is something here you want to listen to. These guys don't stop! Their reputation for being the real deal is no joke, as Daniel Mullins proclaims for their latest album Poor Boy's Pleasure "WARNING — this album contains industrial strength bluegrass." No dilution, Poor Boy's Pleasure cuts to the core of this genre, giving us all what we want out of a bluegrass album. Junior Sisk has been honored with |BMA's male vocalist of the year award, and he and his band were SPGBMA's choice for Bluegrass Band of the year in 2015.
For Junior Sisk and Ramblers Choice this is their first recording at Mountain Fever Studios in Willis, Virginia. and on the Mountain Fever label. Though they have many recordings to their credit, this collaboration promises to hit it out of the park. The enthusiasm and fever they demonstrate on stage comes through well and proud with this CD. Track #1 "Lonnie Ray" starts it all off on a solid note. One new song "Jimmy, JD and Paul" pays tribute to bluegrass greats. A sure favorite, the heartfelt "walking in The Blue Ridge" was a close runner up for the single, but "Longneck Blues" ended up winning that spot and debuted at #1 on Bluegrass Today's weekly airplay chart, staying in the top five for weeks to follow. Not a single song on Poor Boy's Pleasure lacks in anything that you would want from bluegrass.
WARNING — this album contains industrial strength bluegrass.
The new album features twelve tracks of brand new music, including lead single "Longneck Blues," which debuted at number one on the Bluegrass Today weekly airplay chart. A classic-sounding drinking and heartbreak song from the pen of Mike O'Reilly, the single is a duet featuring Sisk and his close friend, award-winning singer-songwriter Ronnie Bowman. Bluegrass broadcaster Bob Mitchell of The Bluegrass Jamboree and Southern Branch Bluegrass calls the new music "first rate traditional bluegrass... On a five point scale of excellence, this project is a five!"
If reviews of the first single, "Longneck Blues," are any indication, Poor Boy's Pleasure is guaranteed to be the biggest hit yet for Junior Sisk & Ramblers Choice! Supported by Ramblers Choice which includes Jason Davis on banjo; Jamie Harper on fiddle; Johnathan Dillon on mandolin; Kameron Keller on bass; and special guest Aaron Ramsey on guitar, Poor Boy's Pleasure is 12-tracks-strong of everything that creates the makeup of Junior Sisk.
Poor Boy's PleasureTrack Listing:
"Lonnie Ray"
"Longneck Blues"
"Hang A Wreath"
"Land On Our Feet"
"In This World But Not Of It"
"Jimmy, JD, & Paul"
"Walking In The Blue Ridge"
"I Watched You Go"
"Poor Boy's Pleasure"
"Cold In Carolina"
"What About Me Lord"
"Ain't Gonna Work Tomorrow"