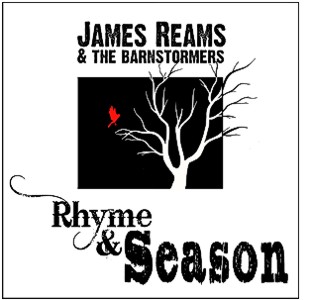 James Reams & The Barnstormers' newest album,
Rhyme & Season
, is about life experiences that don't always have an explanation. The album reflects a maturity of song choice and concern for issues facing the marginalized while still remaining vibrant and alive. Recorded live in the studio, this album is real bluegrass from start to finish.
"$100 Funeral" is one of those rare ballads that evokes empathy and emotion in the listener. Featuring the triple fiddle work from a legendary east coast fiddler, Kenny Kosek, the rest of the Barnstormers waltz through this tune with grace and style. James' unmistakable stamp is all over this cut featuring his haunting and mournful rendition of the lyrics.
James confesses, "I chose this song because of what happened to me when I was a homeless teenager. I woke up one morning in a homeless shelter to find the lifeless body of an old man lying on the bunk beneath me. That experience resulted in my return home and a vow to make something of my life." Almost everyone has driven past a homeless person holding a sign and asking for some spare change. In most instances, we never give them a second thought. This song gently reminds us of their humanity.
Tony Kamel from Wood & Wire raved, "James Reams has seen his share of tough times and they've clearly shaped who he is both musically and spiritually. This collection of tunes not only tells a beautiful story, but is beautiful to listen to. James' unique voice and killer band carries you blissfully throughout the journey, a journey that James has chosen to use as a way to bring awareness to, and benefit the less fortunate. Good on you, James!" Music reviewer, Donald Teplyske called James Reams "one of bluegrass music's true originals." We hope your experience with his newest album, 'Rhyme & Season', will be fresh and original.
Featuring:
James Reams, guitar and lead vocals
Kenny Kosek, fiddle
Mark Farrell, mandolin and harmony vocals
Doug Nicolaisen, banjo
Nick Sullivan, upright bass and harmony vocals