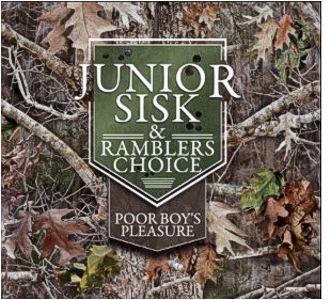 Poor Boy's Pleasure, the brand new album from Junior Sisk & Ramblers Choice on Mountain Fever Records, will be officially released May 27, 2016 at the Chantilly Farm Bluegrass & BBQ Festival in Floyd County, Virginia!
The new album features twelve tracks of brand new music, including lead single "Longneck Blues," which debuted at number one on the Bluegrass Today weekly airplay chart. A classic-sounding drinking and heartbreak song from the pen of Mike O'Reilly, the single is a duet featuring Sisk and his close friend, award-winning singer-songwriter Ronnie Bowman. Bluegrass broadcaster Bob Mitchell of The Bluegrass Jamboree and Southern Branch Bluegrass calls the new music "first rate traditional bluegrass... On a five point scale of excellence, this project is a five!"
Chantilly Farm, a special events venue and campground located just outside of the town of Floyd, has served as an official touring sponsor of the group since 2014. The Bluegrass & BBQ Festival, which takes place annually on Memorial Day weekend, serves as the band's home festival. This year's festival takes place May 27-28. Junior Sisk & Ramblers Choice will perform both days, and will be joined throughout the weekend by award-winning bluegrass favorites such as Volume Five, Russell Moore & IIIrd Tyme Out, Doyle Lawson & Quicksilver, and Lonesome River Band.
In addition to two days full of bluegrass music, the festival also features arts and crafts vendors, children's activities, jamming opportunities, a corn hole tournament, and more. RV and tent camping are available on the festival grounds, and numerous food vendors will be onsite both days.
Advance tickets are available until May 26, and can be purchased from the Chantilly Farm website www.ChantillyFarm.com [1] or by calling (540) 745-2322.