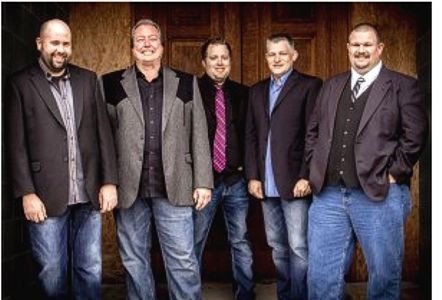 Cumming, GA -- 25 years! 25 YEARS!!! It seems almost impossible to believe. On one hand it's gone by so fast but on the other...well, that is a quarter century! Ha! All kidding aside, it has been a fantastic journey to this point with IIIrd Tyme Out. We've traveled millions of miles, played thousands upon thousands of shows, and have made a list of friends that would stretch around the world a dozen times! We can't thank all of you enough for supporting our dream of playing music all these years. To say we are excited about all of this would be an understatement! We've got several things to tell you about so let's get started!
Last year, the band broke the rules and did what many said they shouldn't. They released their latest record, It's About Tyme on their own label, Break A String. They knew that was a bold move but they took the leap of faith and it turns out, it was the right decision! The album debuted at #2 on the National Bluegrass Survey's Top 15 Albums chart in November and then went to #1 in December. Russell Moore & IIIrd Tyme Out now have had the #1 album for five consecutive months!! In all their 25 years, 18 albums total, they've never had a record be so well received by radio and fans and the band cannot thank you enough!! they have also had two #1 songs in a row; "Brown County Red" at #1 in March and "I'm Leaving You And Fort Worth Too" in April. If you haven't already seen it, check out the lyric video for "I'm Leaving You And Fort Worth Too." It's a toe-tapper for sure!
Moore writes, "That's right! Just in "tyme" for our 25th anniversary celebration, we're launching a brand new website! The new site is so easy to navigate and offers new features that we've never had before. For example, our Tour calendar is extremely easy to navigate and gives you the opportunity to RSVP to shows and even share the tour calendar on your own Facebook and Twitter pages. We've also got a new section titled "Featured Media" on the home page that we will regularly update with new photos and videos from our travels on the road. And for those of you who like to stay mobile, this site is much more mobile-friendly for you. Head over to www.IIIrdTymeOut.com [1] and take a look around and let us know what you think."
Tyme For 25 Kick-Off Appearances! We've got three special performances planned to officially kick off our Tyme For 25 Celebration Tour! We'll start out in Roxboro, North Carolina on April 30th for a special, extended performance — one show only — at the Willow Oak Park Bluegrass Festival. We'll take the stage at 9:00pm ET.
On May 5th at 1:00pm CT, folks all over the world can listen to a the Radio Kickoff of our Tyme For 25 Tour when we perform LIVE on SiriusXM Bluegrass Junction! We'll be joining Kyle Cantrell in the Nashville, Tennessee studio and are looking forward to visiting with him while performing many of the songs that we've released over our 25-year career. If you have a SiriusXM, tune in to channel 61. If not, get a 3-day free trial here and join us for an afternoon of fun on Bluegrass Junction!
May 6th - Make plans to join us in Nashville, Tennessee and the infamous Nashville Palace! This will be the official Kick-Off Concert for our Tyme For 25 Tour and we can't wait!! We'll be making our debut on this stage with the show kicking off at 7:00pm CT with music by The Howlin' Brothers and The Glade City Ramblers. We're looking forward to seeing many of our friends!
Remember, this is just the kick-off of our Tyme For 25 Tour which will run through April 2017. Please make sure to check out our website for all of our scheduled appearances and make plans to join up with us for some fun!
Check out where the band will be playing for their Tyme For 25 Tour [2]