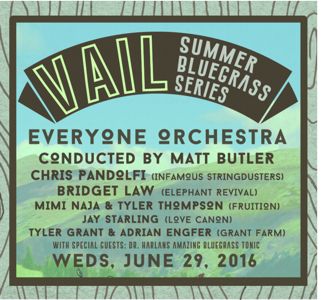 Vail, CO -- In addition to the previously announced lineup of Darrell Scott, Sara Watkins and Head for the Hills, Vail Bluegrass is excited to share the details for the Everyone Orchestra's June 29 opening night performance. Joining conductor Matt Butler are Chris Pandolfi (Infamous Stringdusters), Bridget Law (Elephant Revival), Mimi Naja and Tyler Thompson (Fruition), Jay Starling (Love Canon) & Tyler Grant and Adrian Engfer (the Grant Farm). Opening the evening will be Dr. Harlan's Amazing Bluegrass Tonic of Denver.
As previously mentioned, the Vail Summer Bluegrass Series will once again be working together with the Betty Ford Alpine Gardens to present Bluegrass in the Gardens. Taking place in the early afternoon on show-day Wednesdays, Bluegrass in the Gardens will feature the Vail Bluegrass artists in an extremely intimate setting.
A list of preferred accommodations, dining options, things-do-in-summer, and more, is soon to be announced. Vail Bluegrass would also like to acknowledge its partners and sponsors: the Town of Vail, Antlers at Vail, the Betty Ford Alpine Gardens, Bonfire Brewing, 10th Mountain Whiskey and more.
More information can be found at www.vailbluegrass.com [1]
There's no place like Vail for year-round recreation, outdoor pursuits and cultural activities in the heart of the Rockies. Located just two hours west of Denver, Vail's fresh air, rugged beauty and charming pedestrian village await guests. Discover a quaint mountain town where outdoor activities abound and the performing arts flourish. Matching the incredible winter mountain experience, Vail from May through October is characterized by a rich culinary scene, family activities, a world-class events schedule and everything in between. This summer guests can experience events like the Vail Summer Bluegrass Series, GoPro Mountain Games, Vail Jazz Festival, the Vail International Festival of Dance, BRAVO! Vail, Gourmet on Gore culinary festival, Vail Farmers' Market and much more. Vail offers a diverse range of lodging options from luxury brands to boutique hotels, condominiums and vacation rentals. For more information on a Vail vacation, please visit www.vail.com [2].
Betty Ford Alpine Gardens is the highest botanical garden in North America providing free access to an estimated 100,000 visitors annually. Located on a little over three acres in Vail's Ford Park, the Alpine Gardens is open to the public from dawn until dusk throughout the year. This July the Gardens debuts the Education Center and Alpine House. The building will house interactive exhibits for visitors to better understand our alpine environment, a cold greenhouse to grow and display alpine plants throughout the year, and work stations for the Gardens conservation and environmental science, and ornamental horticulture programs.