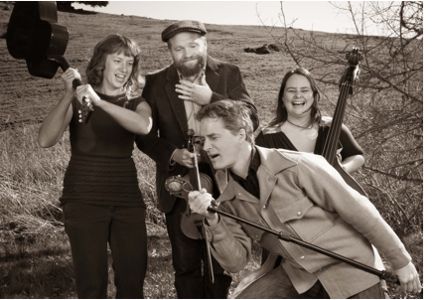 Bristol, TN/VA -- During the Grand Opening of the Birthplace of Country Music Museum the Birthplace of Country Music revived the old WCYB Farm & Family Fun Time radio show before a live audience. Now, Radio Bristol revisits the live music radio hour with one of old-time music's most amazing acts, the Foghorn Stringband, along with Bill & the Belles and Corbin Hayslett.
The Foghorn Stringband is the present day shining gold standard for American string band music, with eight albums, thousands of shows, over a decade of touring under their belts, and an entirely new generation of old-time musicians following their lead. Through all this, they've never let the music grow cold; instead they've been steadily proving that American roots music is a never-ending well of inspiration.
cvAll they have to do is play, and the power surges straight into you own chest. They let their own musicality and the tunes speak for themselves."
  ~ Old Time Herald
Tickets are available by Clicking Here [1].